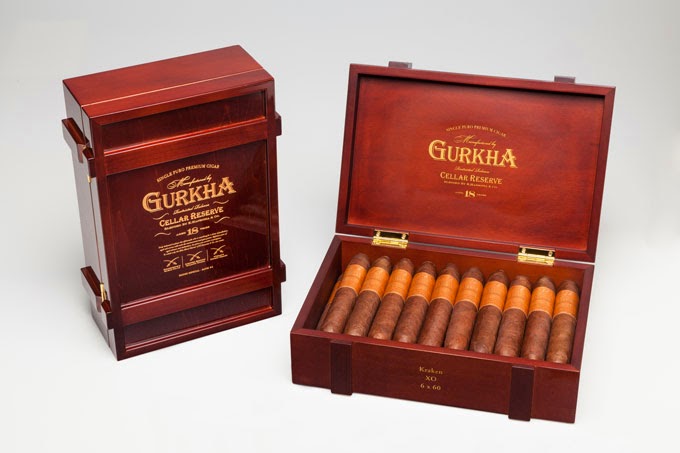 Gurkha Cellar Reserve Edicion Especial
(Photo Credit: Gurkha Cigar Group Newsletter)
Gurkha Cigar Group will unveil a third blend in its Cellar Reserve line. The Gurkha Cellar Reserve Edicion Especial will introduce a limited edition Corojo wrapper option to this line. The cigar is expected to retailers later this year. Back in the 2/1/14 Cigar Industry Report, we noted an appearance by Bianca Melone and Juan Lopez on the Stogie 411 program where they revealed that this project was underway. The Cellar Reserve Edicion Especial will be launched at the IPCPR Trade Show in Las Vegas later this month.
In addition to using a Corojo binder, the Gurkha Cellar Reserve Edicion Especial features what is described as an 18 year old Dominican binder and 18 year old Dominican filler.

Gurkha launched the Cellar Reserve line back in 2011 and it was one of the first three lines that Gurkha has targeted exclusively for brick and mortars. The original Gurkha Cellar Reserve features a Criollo 98 wrapper and incorporates 15 year old filler tobacco. Last year, a maduro counterpart called the Gurkha Cellar Reserve Limitada. That cigar featured a Brazilian Arapirca wrapper also over what was described as 15 year filler.
"I partnered with our blenders to search for the rarest tobaccos we could find and stumbled upon this 18-year old Corojo wrapper and blend. There was only enough to make 1000 boxes of each size and we couldn't be happier with the outcome. In fact, at this very moment we are searching for another rare blend for next year," commented Kaizad Hansotia, Chairman of Gurkha Cigar Group
The cigar joins the Gurkha Royal Challenge Maduro, East India Trading Company Classic Cigar, and the relaunch of the Pedro Martin Ruby and Pedro Martin Maduro as planned 2014 releases. Consistent with the rest of the Cellar Reserve line, it will only be made available to brick and mortar shops.
At a glance, her is a look at the Gurkha Cellar Reserve Edicion Especial
Blend Profile
Wrapper: Corojo
Binder: 18 Year Old Dominican
Filler: 18 Year Old Dominican
Vitolas Available
The Gurkha Cellar Reserve Edicion Especial is being launched in four sizes. Except for the Kraken, the other three sizes are perfectos. Pricing will be $11.00 to $15.00.
Koi: 4 x 58
Solara: 5 x 58
Hedonism: 6 x 58
Kraken: 6 x 60
Update 7/9/14: Updated Sizes