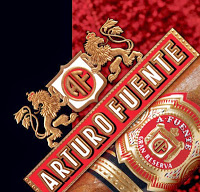 For the first time in over 3 1/2 years, the Arturo Fuente Anejo line will be receiving a line extension. Today, Arturo Fuente Cigars has announced an eighth vitola in being released in their limited Anejo line. This new line extension introduces a figuardo that will be in the thinnest ring gauge to date – a 6 5/8 x 44 cigar. Information on this story was broken on a story via Cigar Aficionado.
The Anejo line was introduced back in 2000 following the aftermath of Hurricane Georges. That storm inflicted damage on several of Fuente's facilities. As a result of damage to that storm, Carlos Fuente Jr. was fearful that he would not enough wrapper to make the OpusX cigar, so he procured some Connecticut Broadleaf to put on the OpusX blend instead – thus Anejo was born.

The Anejo made its debut in 5 sizes. This was followed by the release of the most sought after Anejo cigars the Anejo No. 77 Shark around 2002. It was then almost a decade until the seventh vitola, the Anejo No. 60 was added in early 2011. The addition of the 44 ring gauge is the latest size.
It has not been confirmed if this cigar will officially be called the No. 44.
According to the article, the new Anejo will ship in September. Typically the Anejo is a limited production series with releases one or two times a year.
Blend Profile


Wrapper: Connecticut Broadleaf
Binder: Dominican
Filler: Dominican


Vitolas Available
The new 6 5/8 x 44 figuardo will not have a pointed tip, but a slightly flattened one.
6 5/8 x 44 (figuardo)
No. 46: 5 5/8 x 46
No. 48: 7 x 48
No. 49: 7 5/8 x 49
No. 50: 5 1/4 x 50
No. 55: 6 x 55 (Torpedo)
No. 60: 6 x 48
No. 77: 5 7/8 x 50 x 64 (Shark)