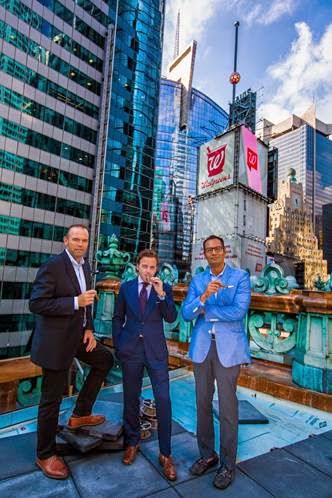 Left to Right (Chef Charlie Palmer,
VP Retail & Brand Development at
Nat Sherman,Michael Herklots,
The Knickerbocker Managing Director
Jeff David)
Photo Credit: Frank Villegas
A rooftop cigar lounge is coming to the Knickerbocker hotel. Nat Sherman and the Knickerbocker Hotel have announced that Nat Sherman will operate the cigar lounge atop the roof of the New York hotel located in the Times Square area. The lounge is expected to open this Fall.
According to a press release by Nat Sherman:
While taking in the unparalleled views from The Knickerbocker rooftop overlooking Times Square, guests will have the true Nat Sherman experience with a curated selection of the finest Nat Sherman cigars, including the Sterling, 1930 and Timeless Collections. To complement Chef Charlie Palmer's progressive culinary offerings and handcrafted cocktails at The Knickerbocker's rooftop bar and lounge, St. Cloud, expert cigar pairing recommendations will be provided by Nat Sherman Vice President, Michael Herklots. A selection of Nat Sherman cigars will also be available for purchase at the hotel's fourth floor signature restaurant and bar, Charlie Palmer at The Knick.

"Our collaboration with The Knickerbocker Hotel is in complete sync with the Nat Sherman brand and philosophy," said William Sherman, Executive Vice President, Nat Sherman. "The Knickerbocker is an iconic New York building with great history and impeccable style. Add in Chef Charlie Palmer's incredible culinary creativity and first class service, and Nat Sherman is the perfect fit."
The Nat Sherman – Charlie Palmer alliance is not new. Back in April, Vice President Michael Herklots teamed up with Charlie Palmer for the launch of the Chasing Thursdays series in Las Vegas, Nevada. Herklots is also an aficionado on pairings and published an article on cigar and whiskey pairings.
"A partnership between The Knickerbocker and Nat Sherman seems pre-ordained. Both have deep roots in New York City and have grown to icon status, with reputations for excellence and sophistication," said The Knickerbocker Managing Director, Jeff David. "We are excited to continue The Knickerbocker legacy by providing guests with one-of-a-kind programming that incorporates exclusive fitness offerings, award-winning dining and exceptional lifestyle amenities. The partnership with Nat Sherman is a perfect complement to The Knickerbocker experience, which defines 'classic reinvented' and appeals to today's modern traveler."