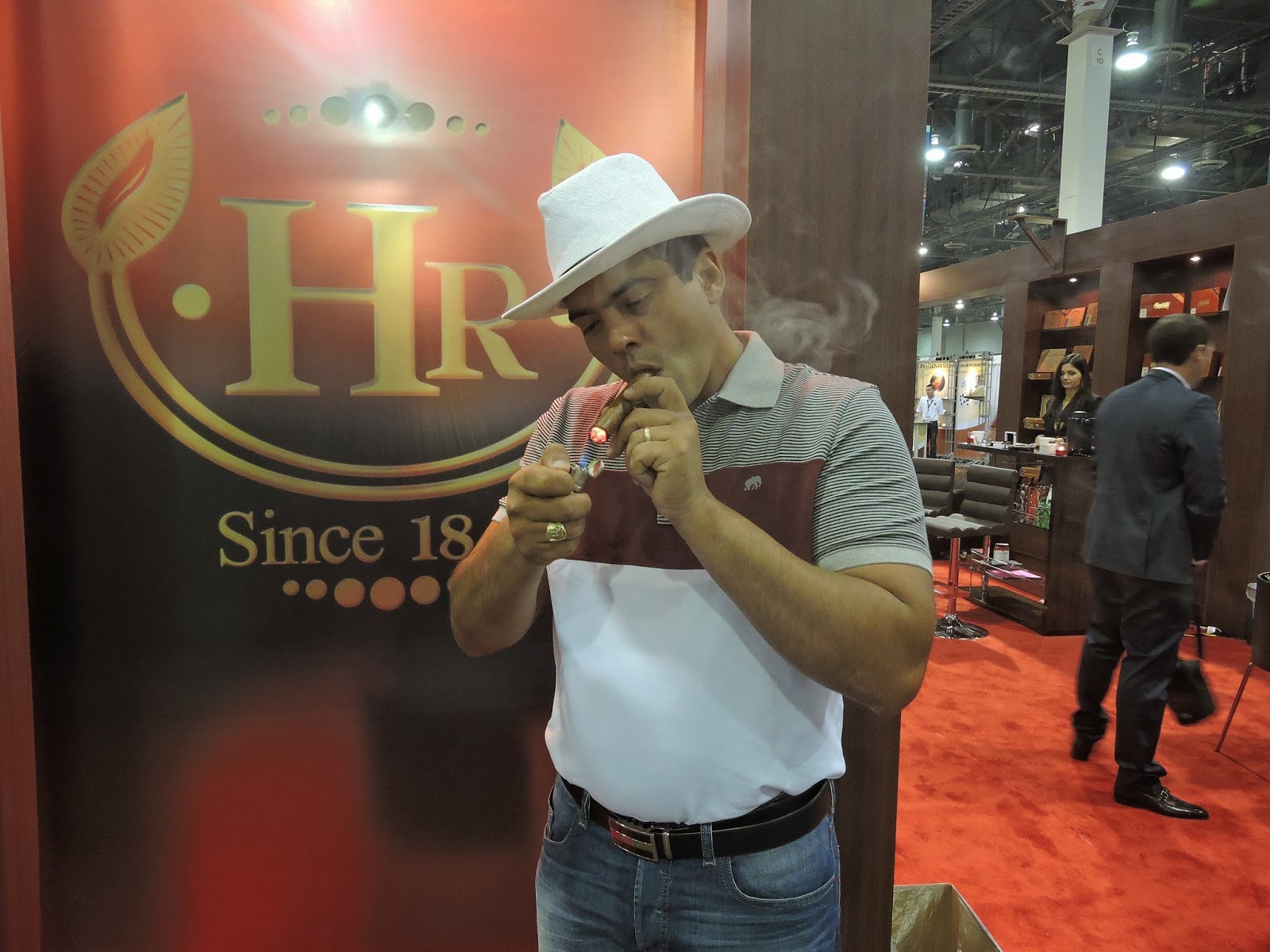 Hiroshi Robaina, 2014 IPCPR Trade Show
In 2014, Cubanacan Cigars has been undergoing a transformation.  Earlier this year, the company streamlined their portfolio around three brands – Cubanacan, Mederos, and Soneros.  Meanwhile the company has also embraced its heritage and is looking forward to the future.  Prior to the 2014 IPCPR Trade Show, it was announced that acclaimed Cuban cigar-grower / cigar-maker Hirochi Robaina would be collaborating with Cubanacan to create a new line of cigars called HR.  As we learned from catching up with Hirochi and the Cubanacan team, this partnership further strengthens both the ties the company has to its past and the road ahead over the next few years.

Cubanacan Cigars is owned by the Mederos family.  The Mederos family has Cuban roots and actually has been involved with rolling cigars since the early 19th century.  This is a vertically integrated company.   Not only does the company own its own factory in Esteli, Nicaragua, but they are also involved with the growing of tobacco.  In regards to the company name, Cubanacan's web-site says, "The name Cubanacan was chosen for it's vibrant history and the story behind it's meaning. Cubanacan means 'where fertile land is abundant' and is derived from tobacco traditions that predate Cuba itself. The story of Cubanacan is not just one of our past, but one that is still being written." After talking with Hirochi and the Cubanacan team, I realized his joining Cubanacan was a logical extension of this mission statement.
Bringing Hirochi to the Cubanacan team was a result of the relationship the company's master blender, on Omar Gonzalez Aleman had to the Robaina family, including both Hirochi and his grandfather, the late Don Alejandro Robaina.  According to owner Robert Mederos, "The good relationships that his grandfather and Hirochi has to the Gonzalez family that made this happen.  I'm mearly an instrument facilitating whatever I can do."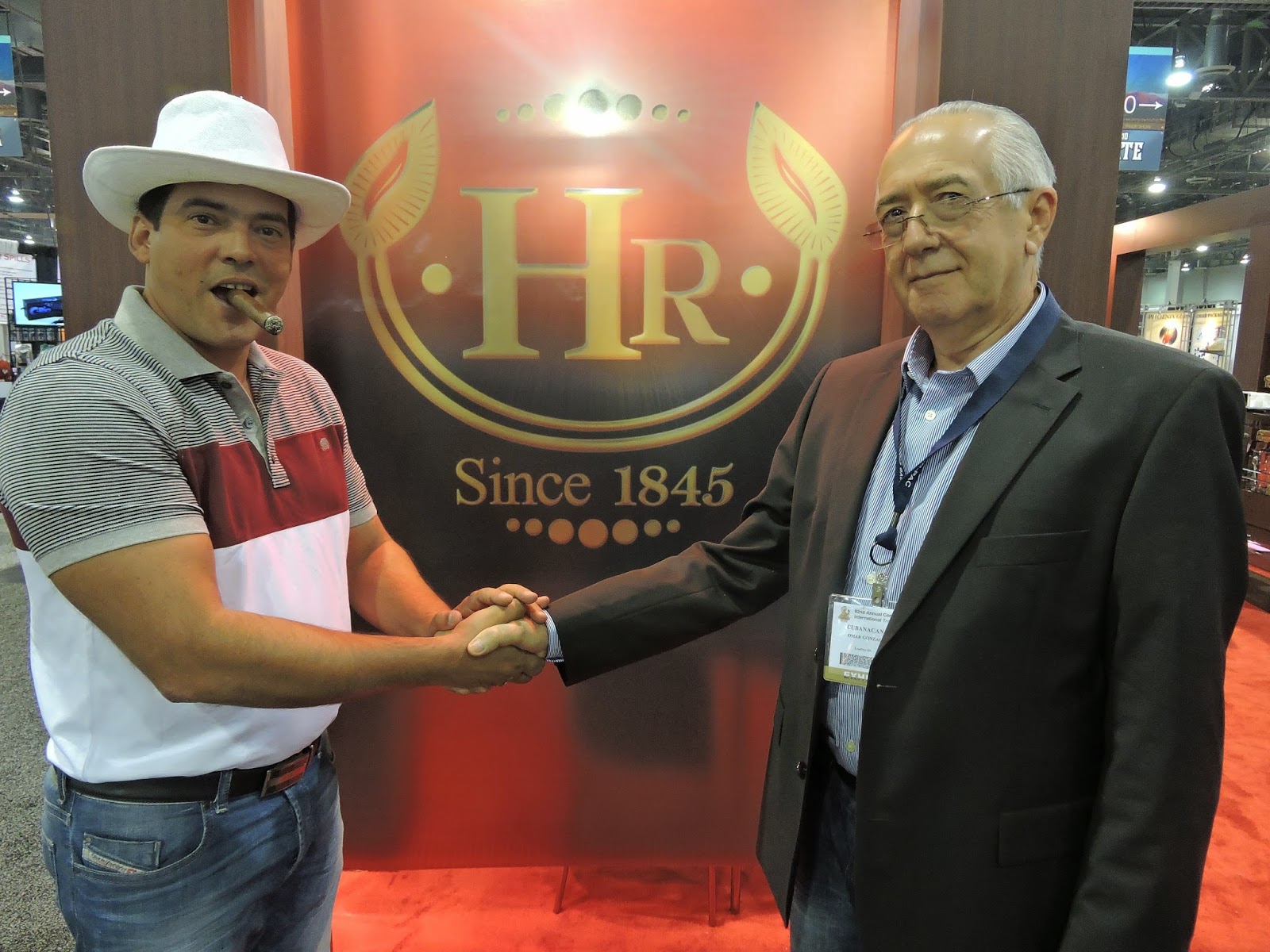 Hiroshi Robaina (Left), Omar Gonzalez Aleman (Right)
Bringing Robaina to Cubanacan was not a trivial undertaking as several logistical hurdles had to be cleared.  As Mederos explained to us, "First I was concerned for many reasons.  One, how are we going to get him to the states.  It was a pretty tough undertaking.  Not only do you have to deal with Washington to get him a Visa, but you have to deal with Cuba.  The second one was obtained first, which was Cuba – blessing him to come to the States.  A couple of months ago, Washington granted him a visa for five years.  When that happened, everything went into high gear."
When it comes to Cuban heritage in the cigar industry, the Robaina family is the real deal.  The family has been growing tobacco since 1845.  Don Alejandro was one of the most acclaimed growers in the history of the Cuban cigar business as Robaina tobacco has been used on some of the great Cuban brands. The family name was put on the Vegas Robaina cigar – released back in 1997.   During the mid 2000s, Alejandro passed over the day to day operations to Hirochi.
Hirochi wasn't just trained to be a grower, but he was trained in all aspects of the cigar business Don Alejandro groomed his grandson for 14 years making sure he understood all aspects of the cigar industry.  To do this Hirochi was sent to work in the Partagas factory as well as other factories.
Cubanacan's HR line was designed to pay homage to the Robaina family.  It is a joint effort between Hirochi and Gonzalez Aleman.  Prior to this project,  Hirochi had developed an appreciation for Nicaraguan tobacco.  "I have spent a lot of time smoking Nicaraguan cigars.  The last two years I have been smoking a lot of cigars from Nicaragua."  For the HR project, while they worked with Nicaraguan tobacco, Hirochi said "This is very close to a Cuban cigar.  I'm very happy."
The HR will be made in four sizes (Hermoso – 5 1/8 x 48; Belicoso – 5 1/2 x 52; Toro – 6 x 52; and Sublime – 6 1/2 x 54).  Hirochi said this is not a cigar geared for the beginner but more for someone who appreciates a complex smoke.
Since Hirochi spend a lot of time in the factory in Cuba, I asked him if he prefers entubado or accordion style rolling.  Hirochi's answer told he he liked both.  The most important thing though is the end product and how it performs.  As Hirochi told me, "The main thing is the cigar has a good draw. Wonderful, beautiful ash, you can see it and enjoy it. A lot of it is just the blend inside.  This gives you a chance to enjoy it."
While the HR Cigar contains tobaccos from the Nicaraguan regions of Esteli and Jalapa, the cigar uses a Habano 2000 wrapper. Hirochi likes this wrapper and said, "It's got a variety of qualities.  It's an oily wrapper leaf. It's got a variety of color."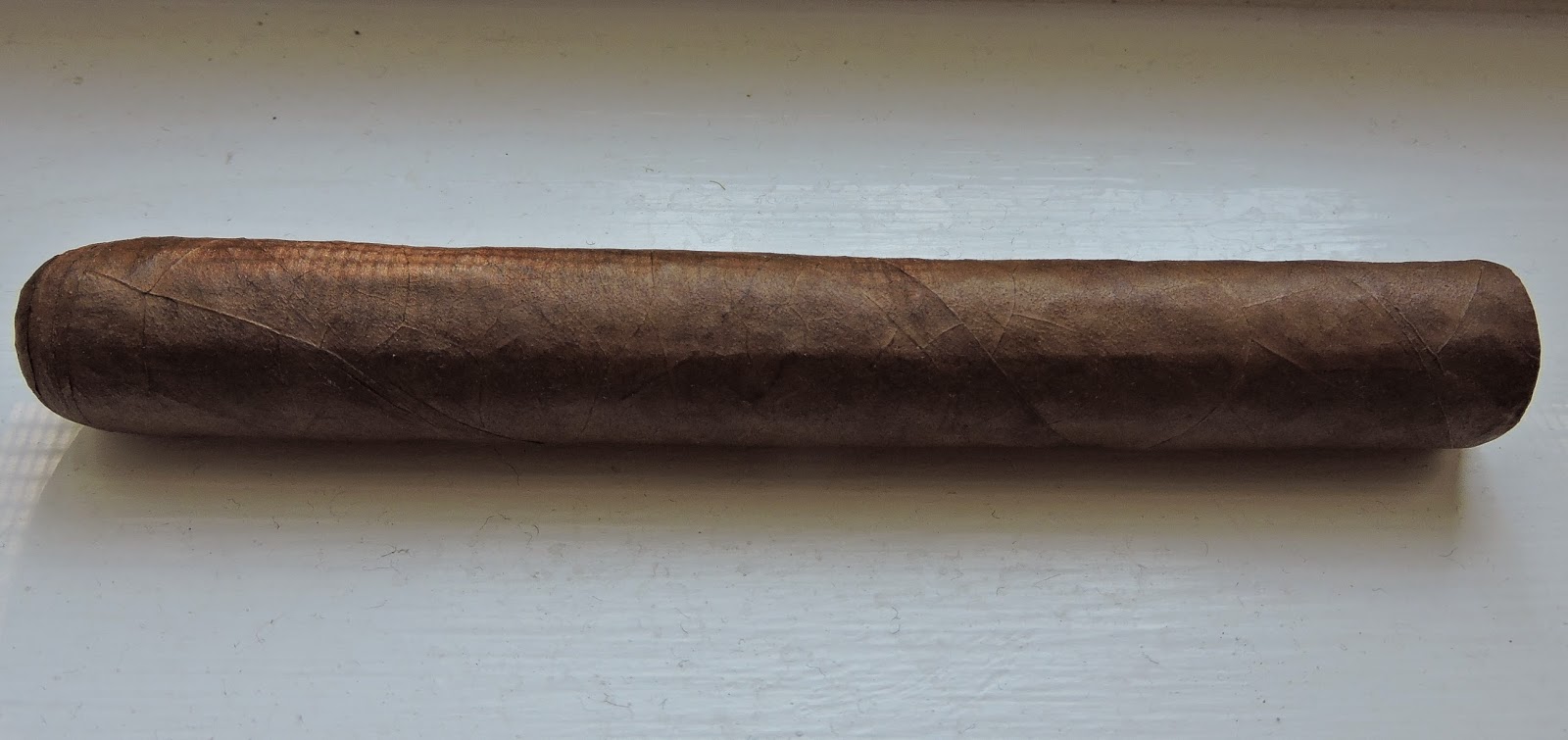 Unbanded Cubanacan HR
In terms of cigar sizes, Hirochi mentioned, "When I was working in Partagas, I learned rolling robusto cigar. And I then after I moved to H.Upmann, I rolled Cervantes like a Montecristo No. 1"  While the Cervantes (a.k.a lonsdale) is a personal favorite size of Hirochi's), Robaina works with the robusto vitola while blending.  Hirochi told us "it's easy" as opposed to starting with something like a lonsdale or Montecristo "A" where it is more difficult to work with the draw.  Robaina personally likes the lonsdales and told us he likes the new Cubanacan lonsdale.
While the Robaina family and Hirochi has embraced tradition, there also is plenty of forward thinking. When I asked him about his thoughts on big ring gauges, I was very surprised by his reaction.  He was quick to tell me about a project called "The Beast" (La Bestia).  This is a 7 x 62 cigar that was made at the Robaina farm in Cuba.  The cigar was intended for friends and family and has been around since 2001.  In terms of this cigar Hirochi said, "It's an amazing cigar", but because of its size "you must smoke them at a very special moment" so you can savor it and enjoy it.   Hiroshi told us the key to that cigar and any big ring gauge cigar is "balance".  When Hirochi recently visited Cigar Inn in New York, he was surprised at the amount of 60+ ring gauges in the American market.
Another innovation from the Robainas, is the closed foot cigar in the Cuban market.  Hirochi told us of a cigar made at the Robaina farm that has wrapper over the footer that protects the cigar from cracking during transport.  This was unique to the Robaina family in Cuba.  It is something that has carried over to the HR brand.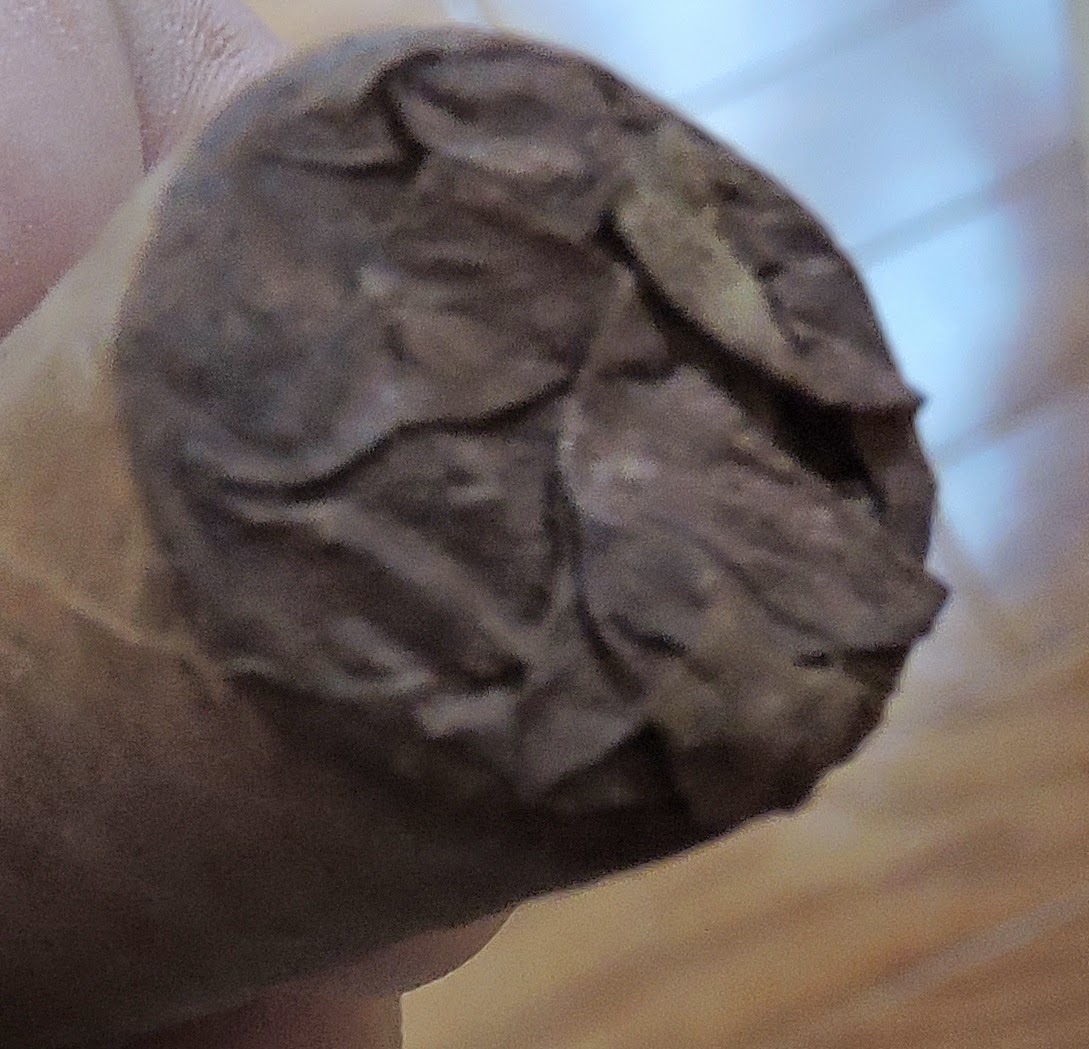 Closed foot of the Cubanacan HR
The addition to Hirochi to the Cubanacan team is not a short term one. Mederos said there are more projects ahead – including some limited editions and plans for a commemorative project to celebrate the Robaina family's 170th anniversary in 2015.
In the meantime, the focus is on the initial HR launch.  The HR cigars handed out at the show were still unbanded. Final packaging and bands expected to be completed in the next 30 days.  The cigar is targeted to be shipped to retailers this November.
Hirochi will also be visiting the United States as an Agri-Cultural ambassador to share his knowledge in this field as well as gain additional knowledge.  There are also plans for Hirochi to do a planned tour with three visits to the states visiting a round of retailers with each visit. "It's a new world he's about to engage. He's very excited about it. We have given him a big welcome.  It's great," said Mederos.