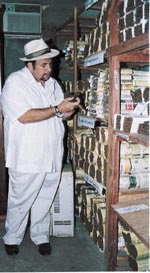 Kiki Berger
Photo Credit:
CubanCrafters.com
Enrique Berger, better known as Don Kiki Berger, one of the more popular and respected personalities in the cigar industry has passed away. It had been reported this past Friday that Berger had been hospitalized following a massive heart attack. Berger is best known for running not only running Cuban Crafters in Miami Florida, but also established himself as a grower and manufacturer as he owned a farm and the Tabacalera Esteli factory in Nicaragua.
Berger was the son of Max Berger, who had emigrated from Poland during World War II. Max had settled in Cuba and became a cigar maker owning several farms and a factory. Following the rise of the Castro regime in Cuba, Max and his son Kiki left Cuba and headed to the United States where eventually they launched the Cuban Crafters franchise. Berger opened his Esteli operations at the height of the cigar boom in the 1990s.
Berger was often seen in the Cuban Crafters store in Miami, Florida when he was not working in Nicaragua.
Berger grew and manufactured cigars for his Cuban Crafters brands as well as other manufacturers. He was recently a partner in the Berger & Argenti cigar company.