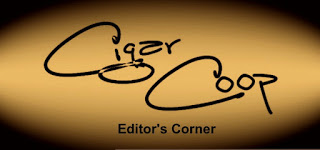 This month we look back on a big event that occurred in October, and prepare for a big event in December.
This past month, the news came that Swisher International had announced their intent to acquire Drew Estate Tobacco. This was not a surprise because the rumor mill had been churning on this for quite a while. As we mentioned last month, as opposed to perpetuating the rumor mill, we opted to bring you the "post-game analysis". The end result is that we brought you in-depth and comprehensive coverage and analysis of this landmark announcement. In the end our audience will judge how well we did.

The coverage included:
We have comprehensive coverage and analysis of this landmark news in the cigar industry:
Now we look forward to December and one of our biggest features. The Cigar Coop "Epic Encounters" – Top 30 Cigar of the Year countdown. It's the original cigar countdown of the top cigars of the year. The countdown begins on December 1st and we start at #30 counting down to #1 on December 31st and name our #1 Cigar of the Year.
November is traditionally the month where I start smoking the cigars again that are positioning for a slot on the countdown. I've referred to these as the "November Pennant Races". This year, in order to qualify for the list, a cigar must achieve a numerical score of 92 and a minimum assessment rating of a "3.5-Box Split".
This will be the fifth year of the countdown on Cigar Coop. For the past four years, the selection of the #1 cigar has somewhat been anti-climatic. This year is by far the most competitive in terms of what cigar will land #1. The November Pennant Races will no doubt play into this selection.
In the meantime, we will continue our daily coverage of the cigar industry and there still are plenty of new cigars released we will be covering.