"Since Regius Cigars has come on the scene, the company has been doing some outstanding releases. In this author's opinion, the Regius Damaris stands among the best of them. This is a grand slam home run and one of the best releases in 2014."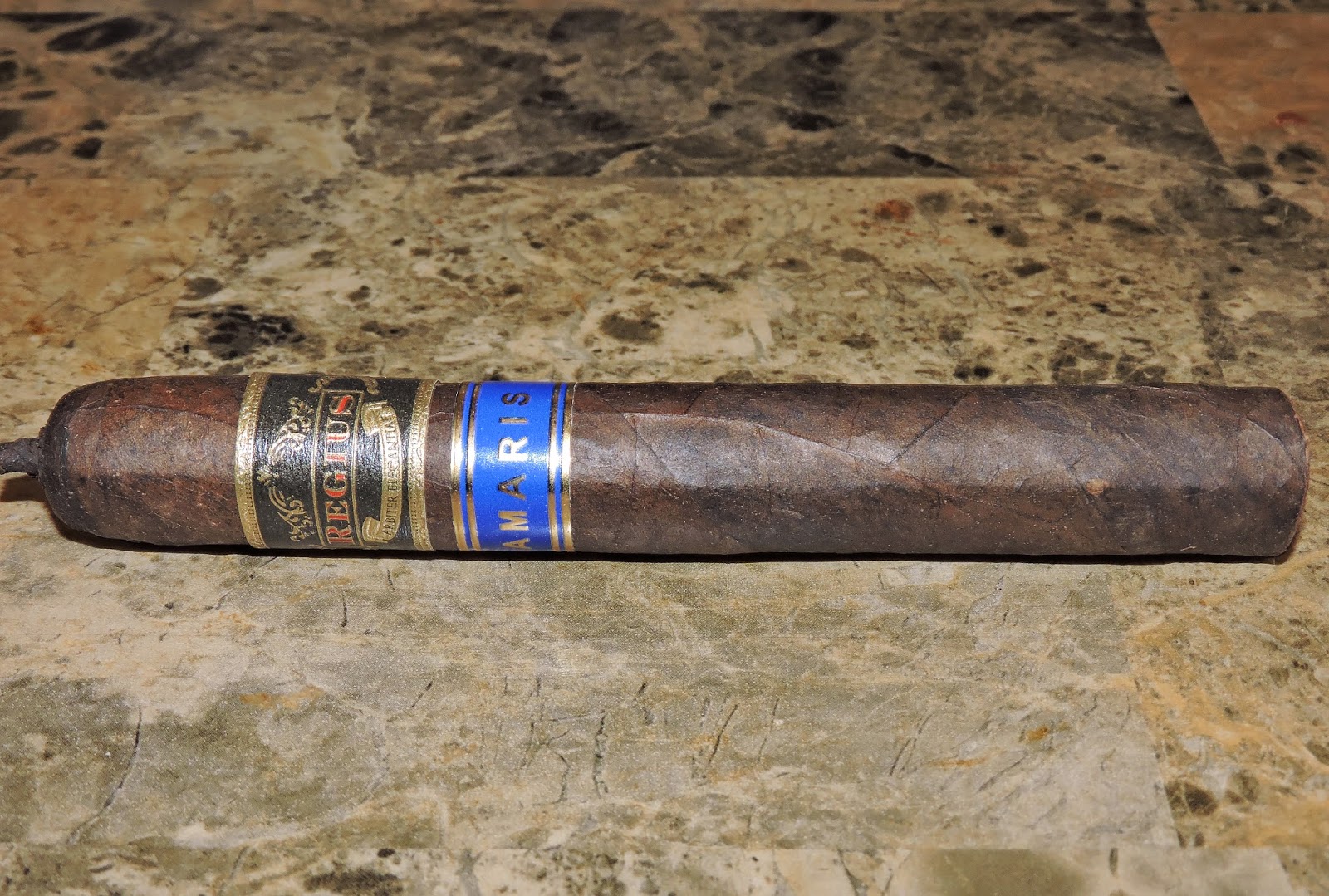 Coming in at #5 is the Regius Damaris. The Damaris is a release that was the first maduro to be released by Akhil Kapacee's Regius of London brand. This cigar gives Regius its second cigar on this year's countdown. In a year where there was a lot of San Andres maduros released, the Damaris becomes only the second San Andres maduro on this year's countdown. I would even go as far to say this is the best San Andres maduro releases of 2014.
To develop this cigar, Kapacee took an approach similar to what he did when he developed the Regius Seleccion Orchant – namely work in collaboration with a retailer. For the Regius Damaris, Kapacee worked with Jim Thomas of That Cigar Place in Houston, Texas. The cigar started out as a shop exclusive for Thomas and now is making its way toward a wider distribution.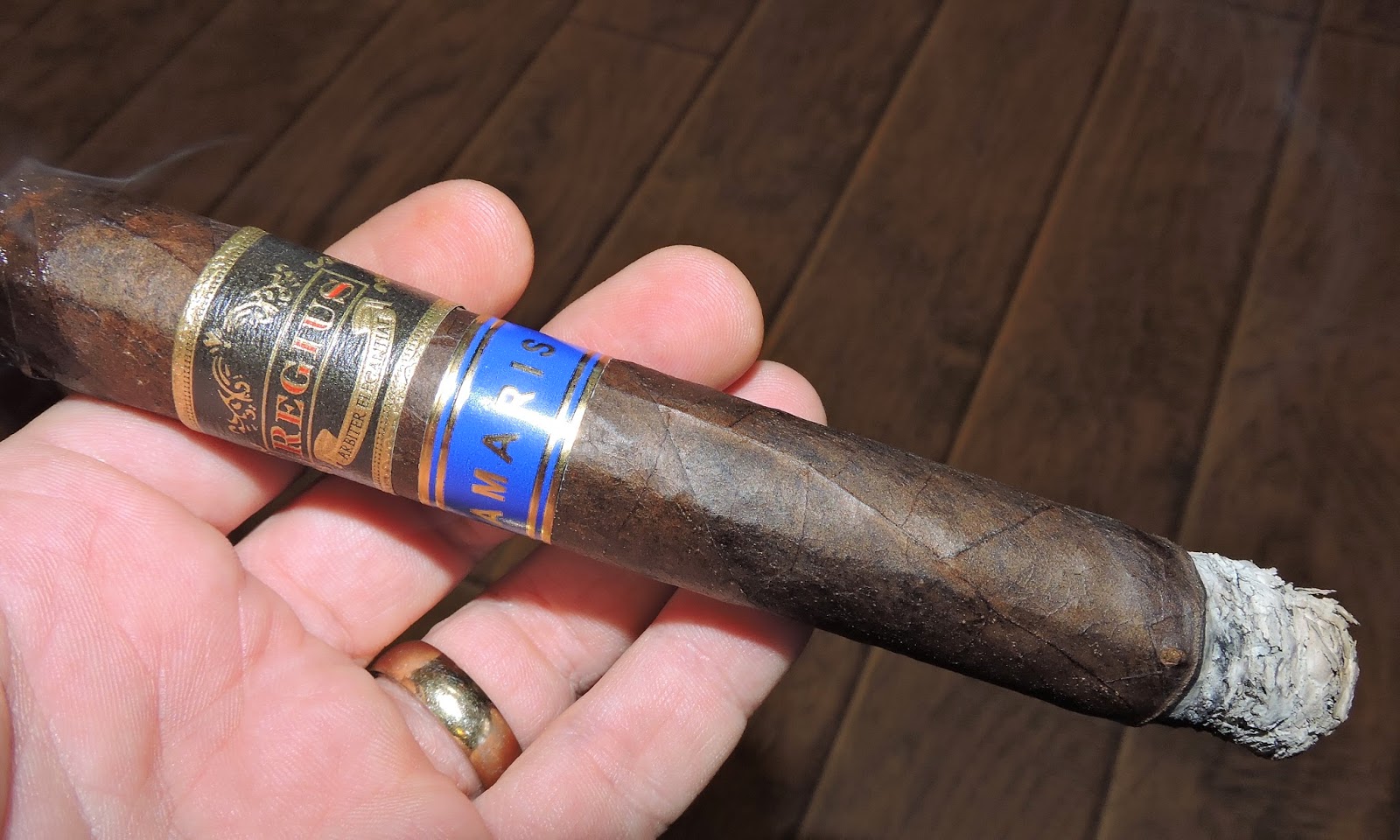 The blend of the Regius Damaris consists of a San Andres Mexican wrapper over Nicaraguan binder and filler. It has only been released in one size – a 6 1/2 x 56 Gran Toro. On an appearance on our Stogie Geeks show, Thomas commented on the genesis of the blend:
"The blend of the Regius Damaris consists of a San Andres Mexican wrapper over Nicaraguan binder and filler. Thomas commented on this to Stogie Geeks as well."So we started playing with the blends and I came down here (Esteli, Nicaragua) for a while and we (Thomas and Kapacee) worked together on this; and we came up with something that I think really works nicely. It's a Mexican San Andres wrapper which I always loved. It gives that nice – a little bit of cocoa flavor to the cigar; but it's not harsh. It's not one of those intense maduro types that sometimes you see on the market. We started off with that and there ended up with a very nice blend of Nicaraguan tobacco. I was surprised we could come up with something from Nicaragua that wasn't so strong and overwhelming. We ended up with a cigar that is actually pretty smooth to be what I consider a maduro cigar."
This cigar while not the most complex could be the most flavorful of any San Andres wrapped cigar I had. Its chocolate notes remind me of chocolate cake layeredwith natural tobacco flavors. There are also nut and white pepper notes. This is a medium strength, medium-bodied cigar that progresses to medium to full later in the smoke.
Overall this cigar is nothing short of a flavor bomb. It is truly the definition of an "Epic Encounter."
Click here for our detailed assessment of the Regius Damaris.
Blend Profile
Wrapper: San Andres Maduro
Binder: Nicaraguan
Filler: Nicaraguan
Country or Origin: Nicaragua
Vitolas Available
The Regius Damaris is available in one size – a 6 1/2 x 56 Gran Toro
Recommended Vitola: Gran Toro (6 1/2 x 56)
Assessment: 4.5 – Fight Chuck Norris for Them
Score: 95 (10/5/14)
For more information on our vision and criteria for the 2014 Cigar of the Year countdown, see our December 2014 Editor's Corner.

Aged Selects is a sponsor of the 2014 Cigar Coop Cigar of the Year Countdown. They offer cigar enthusiasts with premium long filler cigars aged at least five years at an extradordinary price. The expert buyers at Aged Selects go to the factories of major manufacturers and buy cigars that have been aging their cigars for years. The team at Aged Selects inspect them, smoke them, and package them up to ensure you are getting the best quality cigar to smoke. The best part is they are provided to you at an affordable price. Order them at www.cigarfrontier.com.