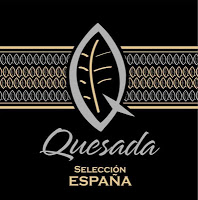 Union Cigar Company, located in Monroe, North Carolina has been selected as a retailer to receive the February, 2015 shipment of the Quesada Seleccion Espana Petit Belicoso.  This special size is a special limited production cigar where each month in 2015, a different retailer is selected to receive a single box of the petit belicoso size of the Quesada Espana.

It was back in December 2014, where word came out that the Quesada Seleccion Espana Petit Belicoso would be the special monthly release for 2015.  The Petit Belicoso comes in a 4 1/2 x 40 size. There will be 100 cigars in the box received by each of the twelve select retailers. The cigars are expected to arrive in early February.
The Quesada Seleccion Espana made its debut in 2011 at the ProCigar festival. It was originally intended for the cigar market in Spain, but based on demand it was released to the U.S. market. The blend contains a Arapiraca wrapper grown in Ecuador, a Dominican binder, and filler consisting of Dominican, Nicaraguan, and Connecticut Broadleaf tobacco.
The "retailer a month" concept for the Quesada Seleccion Espana was launched in 2013 when a single box of the  7 x 38 Quesada Seleccion Espana Lancero was released monthly to twelve shops.  This was followed up by the 7 x 33 Quesada Seleccion Espana Ninfa for 2014.  The 100 count boxes represent an increase in the box count up from 50 for the 2013 and 2014 releases.
Union Cigar Company is owned by Todd Johnson and Nathan Sumner. The shop gets its name from the county in North Carolina where the shop is located (Union County). The Quesada Seleccion Espana Petit Belicoso marks the first Quesada shop exclusive done for Union Cigars.
On being selected as one of the retaiers, Johnson commented to Cigar Coop, "It is truly an honor to have been selected to receive the Quesada Seleccion Espana Petit Belicoso.  With Quesada Cigars, it isn't about selling cigars, it is about the relationships and giving their retail partners quality product.  We proudly represent Quesada Cigars and look forward to many years of mutual success."