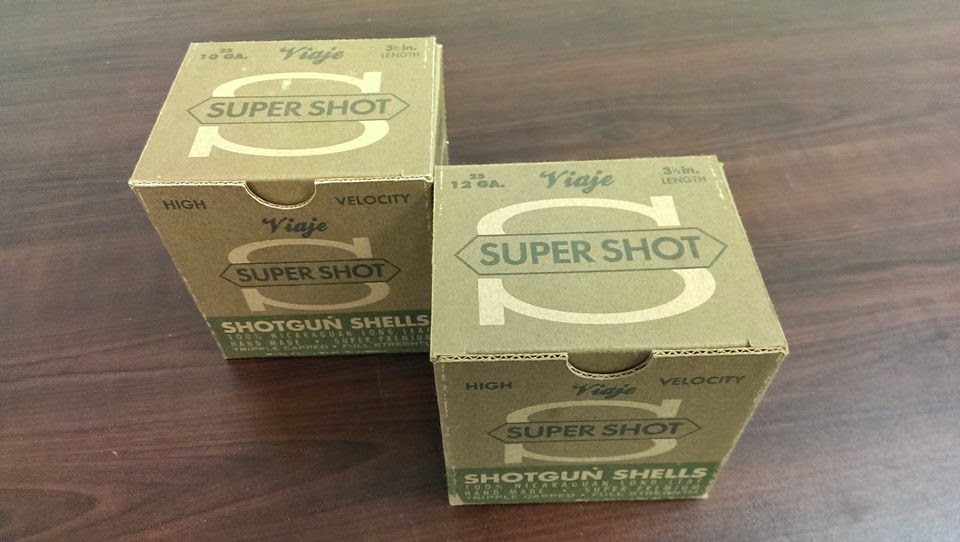 Viaje Super Shot Packaging (Photo Credit: Viaje Cigars Facebook)
Viaje Cigars has announced that the Viaje Super Shot, a short smoke reminiscent of a shotgun shell will be making a return for 2015. Viaje President Andre Farkas has confirmed to Cigar Coop it will be the Criollo wrapper blend that will be making the return for 2014. It is the first time since 2013 that the Criollo wrapper blend of this Nicaraguan puro is coming back.

The name for the Super Shot comes from Farkas' interest in clay shooting. Farkas was hoping to create a short smoke while taking a break in between shooting. The line made its debut in 2012 with the Criollo blend. The Super Shot made a return in 2013 with both the Criollo and a Corojo blend. 2013 also saw the debut of another Super Shot in the Viaje Zombie blend called the Viaje Zombie Super Shot. In 2014, the Zombie Super Shot returned and was the only blend released in this line, so 2015 marks a return of the Criollo blend for this year.
Two vitolas were released to represent the Shotgun shells – a 10 gauge (3 1/2 x 54) and a 12 gauge (3 1/4 x 52). The cigars will come in 25 count boxes looking like a Shotgun Shells box. As with all releases, the Viaje Super Shot 2015 is a small batch release.