Assessment Updates will be posted on this web-site to: 1) Assess "pre-review" cigars that were not given a rating or score (typically pre-release cigars); 2) Provide numeric ratings to cigars previously assessed prior to the implementation of the numeric scoring system; 3) Provide a re-assessment and re-score of a previously assessed/score cigars. Today, we re-assess the 1502 Ruby by Global Premium Cigars.  This was a cigar we assessed back in January, 2013 in the Toro size.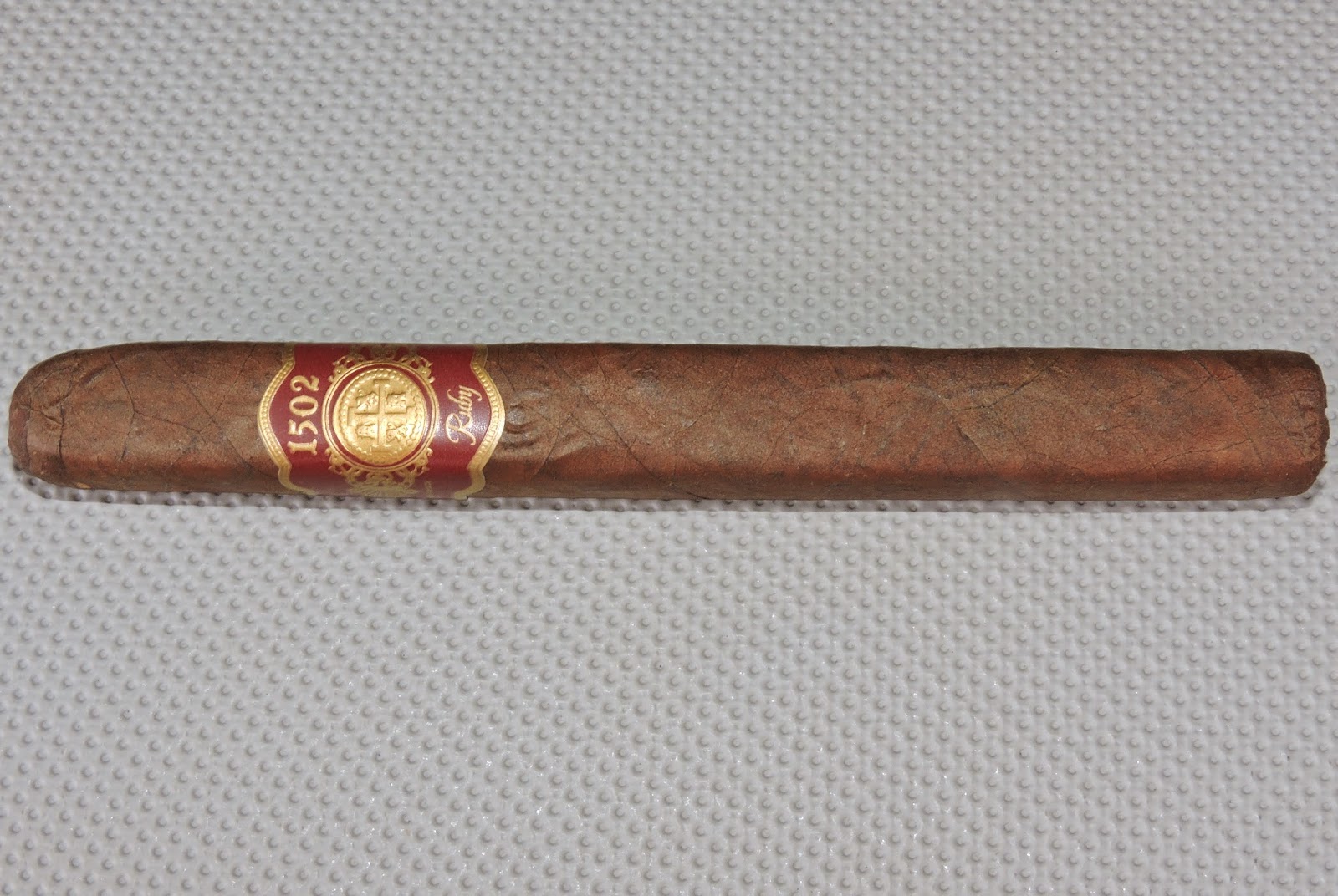 1502 Ruby Corona

Wrapper: Ecuadorian
Binder: Nicaraguan
Filler: Nicaraguan
Country of Origin: Nicaragua (Plasencia Cigars S.A.)
Corona: 5 1/2 x 42 (Box-Press)
The 1502 Ruby is one of the three original lines launched by Enrique Sanchez Icaza's Global Premium Cigars. Last month the long awaited Corona line extensions were released for the Emerald, Ruby, and Black Gold lines.
The 1502 Ruby Corona features a dark reddish Ecuadorian wrapper over Nicaraguan bind and filler. The Corona comes in a 5 1/2 x 42 size. True to the 1502 form, the 1502 Ruby Corona is box-pressed and features the brand's signature "cigar lock" with a partially covered foot.
The Ruby Corona delivered a combination of chocolate, cedar, pepper, and grass notes. I found the chocolate notes took hold early on. As the cigar experienced progressed, the cedar, pepper, and grass notes took hold. At times there was a slight musty component to the flavor profile, but I don't view that as negative and actually made this flavor profile interesting. Toward the end there was more spice from the pepper and cedar. The Ruby Corona is going to deliver medium to full-bodied flavors countered by medium to full strength.
Overall I found the Ruby Corona to keep close to the flavor profile often demonstrated to the line. I didn't quite find some of the citrus sweetness I've gotten on other sizes. The Corona size should definitely satisfy those fans of the 1502 Ruby, yet bring its own character. I've found the Ruby to be as unique a cigar as I have smoked out of Nicaragua. For me, it's more of a change of pace cigar. It's one I'd smoke again – and it's definitely worth a fiver.
Summary
Burn: Excellent
Draw: Excellent
Complexity: Medium
Strength: Medium to Full
Body: Medium to Full
Finish: Good
Assessment: 3.0 – The Fiver
Score: 89
References
Original Assessment (Toro): 1502 Ruby
News: 1502 Coronas for Emerald, Ruby, and Black Gold Lines 
Price: n//a
Source: Cigars Provided by Manufacturer
Stogie Geeks Podcast: Episode 93
Stogie Feed: 1502 Ruby Toro by Global Premium Cigars