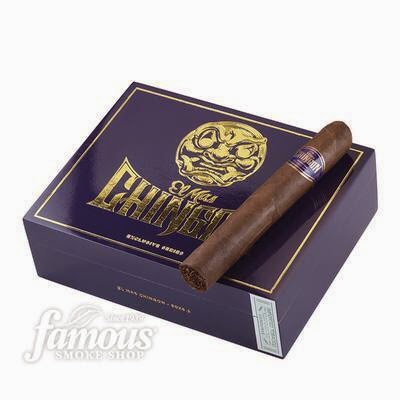 El Mas Chingron by Room 101 Cigars
(Photo courtesy of Famous Smoke Shop
El Mas Chingron is a new shop exclusive for Famous Smoke Shop coming from Matt Booth and Room 101 Cigars.  While shop exclusives are not new for Booth, El Mas Chingron changes things up in a "big way" delivering an all 60 ring gauge.   The first shipment of El Mas Chingron is now available from Famous Smoke Shop.
The cigar will be a regular offering to Famous, but will be available in limited quantities due to availaability of the tobaccos.
"This is a cigar for the ages," said Famous Smoke Shop Executive Editor Gary Korb. "From the moment I lit up this cigar, I knew it was going to be special. I typically enjoy everything Room 101 releases, and the El Mas Chingon has the potential to become the company's all-star stogie. What's even more impressive to me is the sheer variety in terms of sizes along with a low price tag. It is sure to attract cigar lovers because of the multiple sizes offered, and keep them coming back through its affordability."
El Mas Chingron is described as a medium-bodied cigar to appeal to cigar enthusiasts who enjoy bold flavors without enduring a lot of strength. It's great for those who enjoy mild cigars wanting to explore heavier cigars, and a comparable offering to those who enjoy stronger cigars.
2015 has proven to be a busy year for shop exclusives for Booth and Room 101.  Recently the company has been rolling out its Ichiban Series, a series of exclusives for various retailers  The brand also plans the Little Big Deliciious – another collaboration with Smoke Inn.
Blend Profile
The blend is described as having a mix of tobaccos from the Dominican Republic, Mexico, and Honduras and covered with an Ecuadorian Habano wrapper.
Vitolas Available
El Mas Chingron has been launched in four sizes. Pricing ranges from $6.50 to $8.00 with box discounts offered.
Rothschild: 4 1/2 x 60
Robusto: 5 1/2 x 60
Double Toro: 6 1/2 x 60
7 1/2 x 60