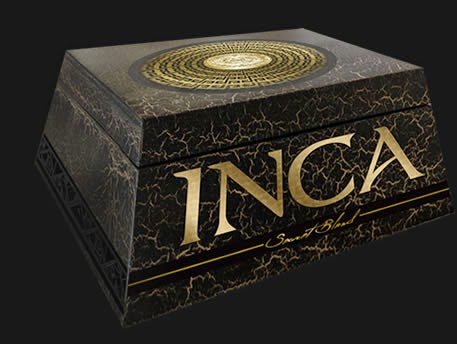 Inca Cigars is a company that produces Peruvian puros (100% Peruvian tobacco) made in Peru. The company originally launched to the United Kingdom, but now Inca Cigars is setting its sights Internationally with a focus on the U.S. market. Plans are now underway to roll out its new Peruvian puro, the Inca – Secret Blend.

Inca Cigars is the brainchild of Mitchell Orchant, a well-known United Kingdom Cigar Retailer who is best known to be the Managing Director of C.Gars Ltd. In 2012, Orchant launched Inca Cigars which he has referred to on his web-site as "the most exciting cigar project I have ever had the privilege to work on." Orchant has said the Inca cigar brand quickly became his best selling non Cuban brand in his retail shops.
Orchant has spent the past three years working on a new blend to introduce to the International market which has been dubbed the Inca – Secret Blend. Plans are to a production of 500 boxes released in two sizes to be made available.
In addition to the cigar containing 100% Peruvian tobacco, the cigars are made at Tabacalera del Oriente, located in Tarapoto, Peru. Tarapoto is located about 600 miles northeast of Peru's capital of Lima. Tarapoto is sometimes called the "City of Palms" or "City of Waterfaills". It is situated in the Amazon Rainforest region and is often a launch point for excursions into the rainforest. It also contains an optimum environment for growing tobacco.
The cigar is named for after the native American Inca Empire that encompassed what is modern day Peru. Tobacco growing in the region can be traced back some 5,000 years.
In terms of introducing this unique project into the American market, Orchant explained, "I'm not trying to make a zillion cigars and a load of baseball caps to sell them with! I'm not trying to compete with anyone. I'm just trying to give the consumer a different choice that during extensive market research sampling across the USA makes me confident that this boutique brand will be well received and very popular."
Inca Cigars is working with Alec Bradley to handle distribution. They will be handling their own marketing.
Blend Profile
All tobaccos in the Inca – Secret Blend have been aged a minimum of three years.
Wrapper: Peruvian
Binder: Peruvian
Filler: Peruvian
Country of Origin: Peru (Tabacalera del Oriente)
Vitolas Available
The Inca – Secret Blend will be launched in two sizes. Each size will be packaged in 20 count numbered boxes. There are further line extensions featuring different sizes planned for later in 2015.
Tambo: 6 x 50 (SRP $190 / box)
Imperio: 6 x 60 (SRP $205 / box)