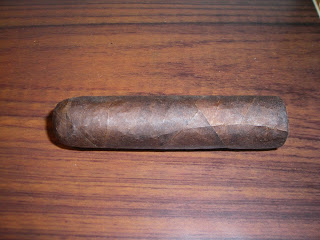 Viaje Zombie Super Shot (Photo of 2013 Edition)
Viaje Cigars has announced the Viaje Zombie Super Shot is returning for a 2015 run. The line was introduced in 2013 and combines two elements from different Viaje lines. The blend itself is based off the Viaje Zombie blend, but the cigar is released in the 10 gauge size of Viaje's Super Shot line. Viaje has reported the Zombie Super Shot 2015 is now heading to retailers.

It was in early 2012, when Viaje launched its Super Shot series. The name for the Super Shot comes from brand founder Andre Farkas and his interest in clay shooting. Farkas was hoping to create a short smoke while taking a break in between shooting. The cigars are shaped and sized similar to a shotgun shell. There have been three blend iterations, a Super Shot Criollo, a Super Shot Corojo, and the Zombie Super Shot.
The Viaje Zombie is one of Viaje's most limited cigars and has only been released to a handful of select retailers. For 2015, the Viaje Zombie shipped to only Winston's Humidor in Midlothian, Virginia and Serious Cigars in Houston. While the Zombie is a limited cigar, the Zombie Super Shot is made available to all Viaje authorized retailers.
The Viaje Zombie blend has been a Nicaraguan puro that has used a Criollo '98 wrapper. It has been released in a 3 1/2 x 54 format known as the 10 gauge.
In addition to the Viaje Zombie Super Shot 2015 shipping, the company is also shipping the Viaje Zombie Antidote 2015.