When we got word of what was planned for the 2015 edition of the Southern Cigar Festival, we knew there was something very special about this event. The combination of a world class venue, the best of the best of the cigar industry, and a host of amenities providing true southern hospitality easily put this as THE "must go" cigar event for 2015. It is our honor at Cigar Coop and Stogie Geeks to partner with the folks behind this event and bring you everything you need to know about this event.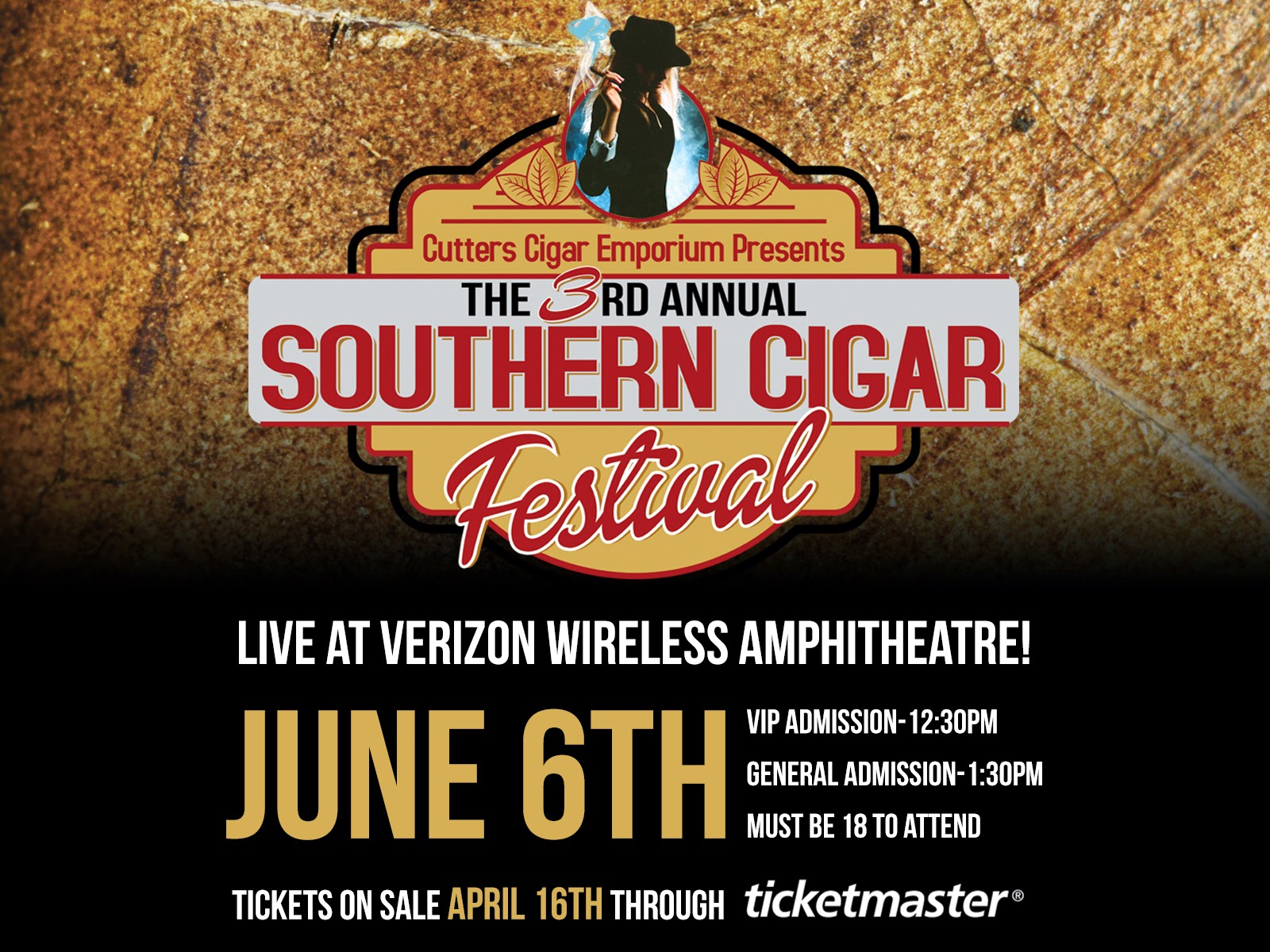 Atlanta is one of the great metropolitan areas in the world. Located in Northern Georgia, it is the home to over five million people. It has also been the home of some big events – the Super Bowl, the Final Four, major conventions, and of course the 1996 Summer Olympics. It will now be the home to one of the largest cigar events ever held, the Southern Cigar Festival. The event will take place Saturday June 6th at one of the great entertainment venues anywhere – the Verizon Wireless Amphitheatre in Encore Park.
The event will feature 35 cigar manufactures from nine different countries. It provides guests an opportunity to get some of the best hand-made premium cigars on the market, meet the people behind these cigars, enjoy live music, sample great food and beverage, make new friends, and have some fun. Tickets for this event go on-sale April 16 through Ticketmaster which can be accessed through the Southern Cigar Festival website.
The Southern Cigar Festival is the brainchild of Russ Sutton, owner of Cutters Cigar Emporium in Alpharetta, Georgia. Sutton founded Cutters three years ago. The store is the only My Father Cigars lounge in the State of Georgia. After attending the big cigar events that take place in Las Vegas, New York, and West Palm Beach, Sutton had the dream of bringing an event on the same scale to the Atlanta area. That dream has now become a reality.
Russ Sutton, Owner of Cutters Cigar Emporium
The Basics You Need to Know
Festival takes place on Saturday, June 6th at 2pm at the Verizon Wireless Amphitheater at Encore Park in Alpharetta, Georgia. If you get a VIP package, or get one of the even more limited VIP Boxes, you can the festival as early as 12:30 pm.
Plenty of Parking (VIP tickets get closer parking)
Festival takes place rain or shine – the Ampitheater is covered.
Thirty-five manufacturers from nine different countries will be represented.
Pre-event Kickoff Party scheduled for Friday June 5th at Cutters Cigar Emporium. Those who show their hotel room key will get a free cigar from My Father Cigars.
Food, alcoholic and nonalcoholic beverages all be available.
There will be live music throughout the festival.
You must be of 18 years of age to attend the festival.
Southern Cigar Festival Packages


Premium Ticket Pass
30 Premium Cigars
Event Tote Bag
Cigar Lighter
Prizes
Cost: $150.00 ($300.00 value)
VIP Premium Ticket Pass (Only 100 tickets available)
35 Premium Cigars
Pre-Event Reception on day of Southern Cigar Festival (12:30pm – 2pm) with food and beverage served
Early Venue Entry
Event Tote Bag with Gifts
Prizes
Meet and Greet with Cigar Manufacturers and Brands
Closer Parking
Cost $225.00 ($400.00 value)
Private VIP Box (Only 30 boxes available)
Ideal for Cigar Clubs and Retailers attending event.
Sponsor a Private VIP Box that has from six to ten comfortable chairs and a table
Comes with a Reserved Sign with Your Group or Store Name
Companion Tickets are also available for $35.00 with the purchase of a Premium Ticket.
Manufacturers and Brands Scheduled to Appear
My Father Cigars
Tatuaje Cigars
L'Atelier Cigars
A.J. Fernandez Cigars
Padron Cigars
CLE Cigars
Asylum Cigars
Perdomo Cigars
La Flor Dominicana
Gurkha Cigars
Xikar
Guayabera Lady
E.P. Carrillo
La Palina Cigars
Kristoff Cigars
Chinnock Cellars Cigars
Cubanacan Cigars
Espinosa Cigars
Esteban Carreras Cigars
Nat Sherman
Rocky Patel Premium Cigars
Recluse Cigars
Ashton Cigars
Davidoff
Quesada Cigars
Tarazona Cigars
Miami Cigar and Company
GTO Cigars
Fratello Cigars
Southern Draw Cigars
Oliva Cigars
Leaf Cigars
Primer Mundo Cigars
Ortega Premium Cigars
Defiant Whiskey
Sutton filmed this video done with Kevin Jenkins from the
Chef and the Fatman Show
. In this segment, Sutton discusses his vision for the event, what to expect from the event, and takes us for a tour of the Verizon Wireless Amphitheatre.
Stay tuned for weekly installments of this series on Cigar Coop and Stogie Geeks leading up to the day of the festival.