Agile Cigar Reviews replace what we termed "Assessment Updates". The concept is the same, but the name is different. Agile Cigar Reviews use a lightweight, shorter format. These will never take the place of our comprehensive reviews. They are only used on blends we have previously assessed. This might be a blend we are re-scoring or providing a score for a first time. It might be a blend we are looking at in a different size. Today we look at the My Father Oro de Nicaragua in a Perfecto size. This is a cigar we had done a pre-release review in a Toro format back in December 2014.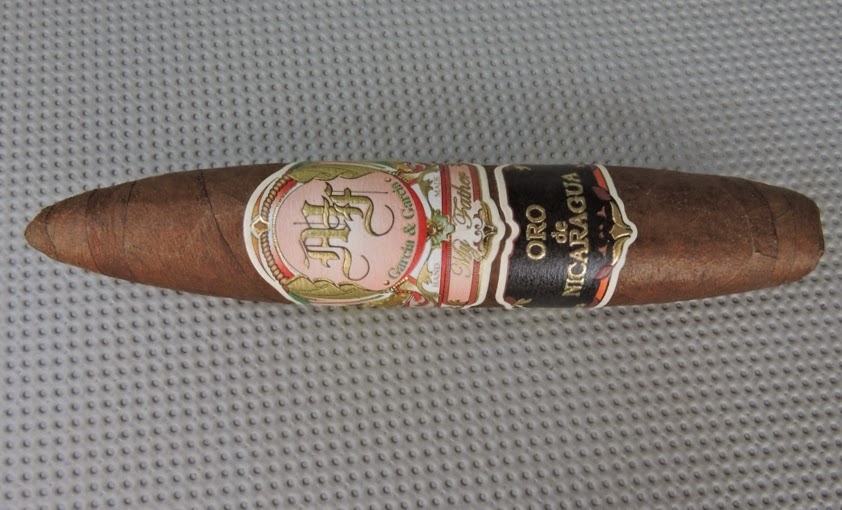 My Father Oro de Nicaragua Perfecto
Wrapper: Nicaraguan
Binder: Not disclosed
Filler: Not disclosed
Country of Origin: Nicaragua (My Father Cigars)
Perfecto: 5 x 52
The My Father Oro de Nicaragua Toro is a new small batch release from My Father Cigars. To some extent, most of this release has been shrouded with mystery. While we have been told this is not a shop exclusive line, right now Casa de Montecriso in the Chicago, Illinois area is the only known retailer to carry this line. The name of the cigar stands for "gold of Nicaragua". Not much else is known about this cigar line other than it is made by My Father Cigars, it is made in four sizes, and it has a Nicaraguan wrapper.
When I smoked the Toro back in December, I found this to be an outstanding, box-worthy cigar. There are some parallels between the Oro de Nicaragua Perfecto and the Toro that we assessed. Like the Toro, the perfecto started with a strong spice blast. With the Perfecto I also found some cedar spices mix in – which soon gave way to a combination of rich mocha and nuts. I found the mocha notes to be much richer on the perfecto than what I derived on the Toro. The mocha note became a little less "chocolate" like in the last third and some of the spices kicked back up.
The flavors were a little deeper on the perfecto size as opposed to the Toro as I found this to be a full-bodied cigar. This was countered by medium to full strength.
The Oro de Nicaragua Toro earned our "Exceptional" rating for burn performance as it was nearly flawless. The Perfecto follows suit here and performs equally as well. This is a testament to this cigar because I often find perfectos to be prone to burn issues. I believe the open footer on this cigar helped a lot here. The draw also performed very well – it had a touch of resistance to it – which is something I like.
Oro de Nicaragua is an excellent offering by the Garcia family. This cigar delivers a smooth and flavorful smoke – while kicking it up with some spice. It's definitely worthy of being box worthy.
Summary
Burn: Exceptional
Draw: Excellent
Complexity: Medium
Strength: Medium to Full
Body: Full
Finish: Good
Assessment: 4.0 – Box Worthy
Score: 92
References
Original Assessment: My Father Oro de Nicaragua Toro
News: My Father Oro de Nicaragua
Price: $7.99
Source: Cigars Provided by Retailer
Stogie Geeks Podcast: n/a
Stogie Feed: n/a