Fratello Cigars bursted on the scene in 2013 and quickly made a name for itself with its single line offering called Fratello. While there have been a couple of blend variations in that line, many fans of Fratello Cigars have still been asking company owner Omar de Frias "What's Next"? Yesterday, the company announced to Cigar Insider plans for its second line. This one is a maduro offering and strangely enough it is being called Fratello Bianco. The cigar is scheduled to launch at the 2015 IPCPR Trade Show, with a soft-launch to seven retailers.

The Fratello Bianco gets its name due to the fact that the band is almost an inverse of the current Fratello band. As opposed to white letters on a red background, this time its red letters on a white background. The band will still have its signature "radio city music hall style" zig-zag band.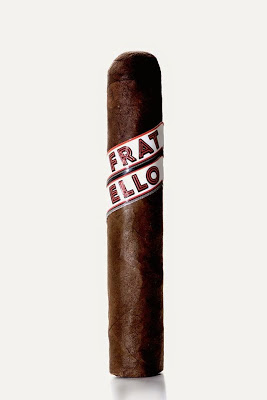 Fratello Bianco
(Photo Credit: Fratello Cigars Facebook Page)
Fratello Bianco features tobaccos from five countries including a San Andres Negro (Mexican). It will be offered in four sizes with three of them being regular production and one used as a event exclusive.
The original Fratello line was launched in 2013. In 2014, the company added its first line extension, the Fratello Boxer. Early this year, the company added its first shop exclusive with the Fratello H-Town Lancero. Both of these line extensions were blend variations off the original Fratello blend.
At a glance, here is a look at the Fratello Blanco:
Blend Profile
As mentioned, the blend is a multinational blend. The cigars are being made at an undisclosed factory in Nicaragua.
Wrapper: San Andres Negro (Mexico)
Binder: Dominican
Filler: Nicaraguan, Peruvian, and Pennsylvania (U.S.) Broadleaf
Country of Origin: Nicaragua
Vitolas Available
The Fratello Bianco will be packaged in 20 count boxes. Pricing is reported between $8.00 and $9.00
I: 6 1/4 x 44
II: 6 x 50
III: 5 x 56
IV: 5 x 44 (Event Exclusive)