When we got word of what was planned for the 2015 edition of the Southern Cigar Festival, we knew there was something very special about this event. The combination of a world class venue, the best of the best of the cigar industry, and a host of amenities providing true southern hospitality easily put this as THE "must go" cigar event for 2015. It is our honor at Cigar Coop and Stogie Geeks to partner with the folks behind this event and bring you everything you need to know about this event.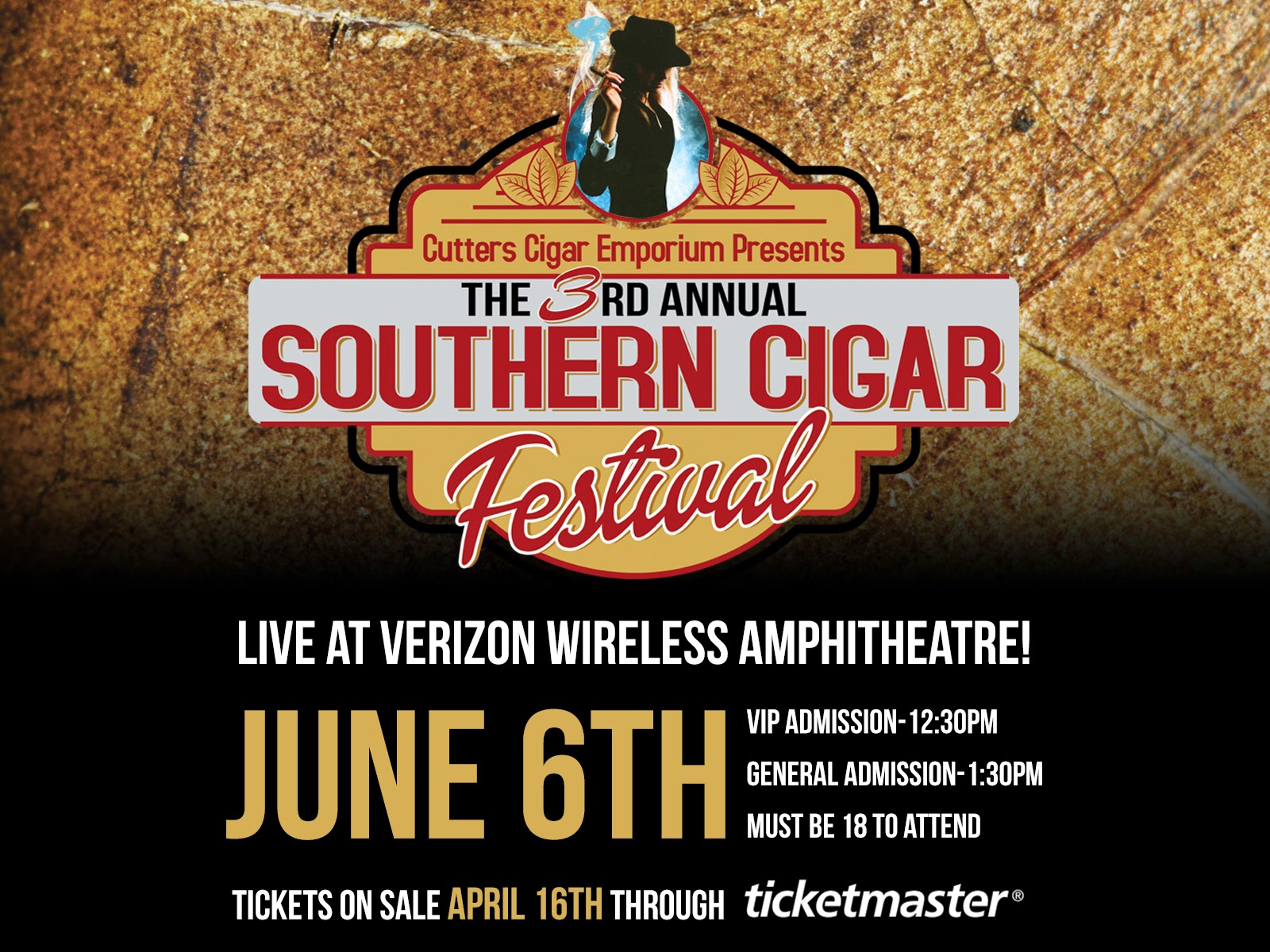 Tickets are currently on-sale at Ticketmaster and at Cutter's Cigar Emporium for the Southern Cigar Festival. The Festival takes place on Saturday June 6th and will be the largest cigar event ever to be held in the State of Georgia. The event is being held at a world class venue, the Verizon Wireless Amphitheatre in Encore Park. Today is our second of a series of installments on the manufacturers and brand owners attending the event.
Note this information is intending to understand and learn about who these manufacturers are. Any cigar of brands listed are for reference purposes and are not indicative of what will be available at the event.
GTO Cigars
-The company was founded by Oscar Rodriguez and makes its cigars at its Tabacalera GTO Dominicana factory.
-Known for its lines such as Pain Killer, Gold, and Doble Capas (a barber pole)
-Rodriguez also is known as "O-Rod". He is a Doctor by trade based in Alabama.
Guayabera Lady
-The company is run by Berta Bravo. Bravo's family has been making clothing for three generations.
-The company's Guayabera shirts have been a staple in the cigar industry for many years.
-In addition to an online presence, the company has a retail shop in Miami, Florida
Gurkha Cigar Group
-The company is run by Kaizad Hansotia and the brand traces its brand origins back to 1887.
-The company has a variety of popular lines with a reputation for innovative packaging. These lines include: Gurkha Royal Challenge, Gurkha Ghost, Gurkha 125th Anniversary, Gurkha Cellar Reserve, and its East India Trading Company offerings.
-The Gurkha His Majesty's Reserve is a cigar that is infused with Louis XIII Cognac. An entire bottle is used on a box of 20. One of these cigars (valued at $1000.00) is being offered as a grand prize at the festival.
House of Emilio
-This is a distribution arm of six boutique companies. It was originally founded by Gary Griffith, who retired earlier this year.
-The six companies are Emilio Cigars, 1502 Cigars, Nomad Cigar Company, Ezra Zion Cigar Company, Guayacan Cigars and Epicurean Cigars
-House of Emilio has placed multiple cigars on the Cigar Coop Cigar of the Year list from 2011 to 2013.
Kristoff Cigars
-The company was founded by Glen Case in 2004, who is based in the Chicago, Illinois area. The cigars are made in the Dominican Republic at the Charles Fairmorn and PDR Cigars factories.
-The company has built a large portfolio of offerings over the past 11 years with some 14+ blends.
-In 2012, the Kristoff Corojo Limitada Torpedo captured the #11 Cigar of the Year by Cigar Aficionado.
L'Atelier Cigars
-This is a joint partnership launched in 2012 between Tatuaje Cigars founder Pete Johnson, his brother K.C. Johnson and long-time friends Dan Welch, and Casper Johnson.
-The company has four core lines – L'Atelier, Surrogates, El Suelo, and Trocadero.
-The L'Atelier line is famous for incorporating a tobacco known as Sancti Spiritus in its blends. This is a unique hybrid tobacco offering of Criollo and Pelo de Oro.
La Flor Dominicana
-The company was founded by Litto Gomez, who recently just celebrated 20 years in the cigar industry.
-Based in the Dominican Republic, the company is vertically integrated as it owns its own factory (La Flor Dominicana) as well as the La Canela farms.
-The company's "Chisel" vitola (a cigar with a chisel shaped tip) is protected by a trademark.
La Palina Cigars
-La Palina Cigars was founded by Samuel Paley in 1896. When Paley retired, the brand was liquidated. It was in 2010 when Paley's grandson, William C. Paley resurrected the brand.
-The company makes its cigars in Honduras (El Diario, La Palin Maduro), the Dominican Republic (La Palina Black, La Palina Classic), and the United States (La Palina Goldie, Mr. Sam, and the La Palina Family Series).
-In 2011 and 2012, La Palina captured the #1 spot for Cigar of the Year on Cigar Coop with El Diario and La Palina Goldie Laguito No. 2 respectively.
Leaf Cigars
-The Leaf Brand is a collaboration between Pittsburgh-based retailer Jim Robinson and Honduras blender Oscar Valladares.
-The company owns their own factory in Honduras.
-The Leaf by Oscar cigars are unique that instead of being wrapped in cellophane, they are wrapped with an actual tobacco leaf. The company also released "Island Jim" (a cigar named for Robinson's nickname) which is a cigar designed like a No. 2 pencil.
Miami Cigar and Company
-The company was founded by Nestor and Marianna Miranda in 1989.
-The company is the exclusive U.S. distributor for La Aurora Cigars. The company also works with My Father Cigars to produce such lines as Nestor Miranda and Anoranzas.
-The company also distributes Viva Republica Cigars and HfBarcelona accessories.
My Father Cigars
-The company was founded by Don Pepin Garcia. It has its own factory and farms in Nicaragua.
-Originally Pepin founded El Rey de los Habanos in Little Havana in Miami, Florida. This would lead to the creation of My Father Cigars in Nicaragua where Pepin would bring his son Jaime and daughter Janny into the business.
-The Flor de las Antillas was Cigar Aficionado's #1 Cigar for 2012.
Nat Sherman
-Company founder Nat Sherman opened his shop in Manhattan in 1930. Today it is still run by the Sherman family. It still operates its Nat Sherman Townhouse in Manhattan for its flagship store. The company has also been in brand development and over the past four years has strengthened its presence in the brick and mortars.
-Over the past few years, lines such as the Timeless Collection, 1930 Collection, Sterling, and Epoca have contributed to a big renaissance the company is going through.
-The limited edition Joel Sherman 75th Celebration cigar was the #1 Cigar of the Year on Cigar Coop for 2014.
Oliva Cigar
-The company is a family run company with farms and factories in Nicaragua. Oliva Cigars traces their history in the history in the cigar business back to Pinar del Rio in Cuba.
-The company is known for such lines as Oliva Serie V Melanio, Oliva Serie V, Oliva Serie O, and Oliva Serie G.
-Last year, the Oliva Serie V Melanio Figuardo was Cigar Aficionado's #1 Cigar for 2014.
Latest Event News
Prizes
-Raffles will be go on every 15 minutes at the festival.
-Grand Prize Raffle includes the Big Green Egg (valued at $1,200.00) and the Gurkha His Majesty's Reserve Cigar (infused with ultra rare Louis XIII Cognac – valued at $1,000.00)
Cigars
We are being informed several new releases not available anywhere else will be made available.
Cigar discounts are 25% to 30% on box purchases the day of the event.
Tickets
The Platinum VIP Tickets are officially SOLD OUT. The Gold Ticket packages are going fast.
The ticket packages are listed below. They can be obtained through Ticketmaster.Cutter's Cigar Emporium or the Verizon Amphitheatre box-office.