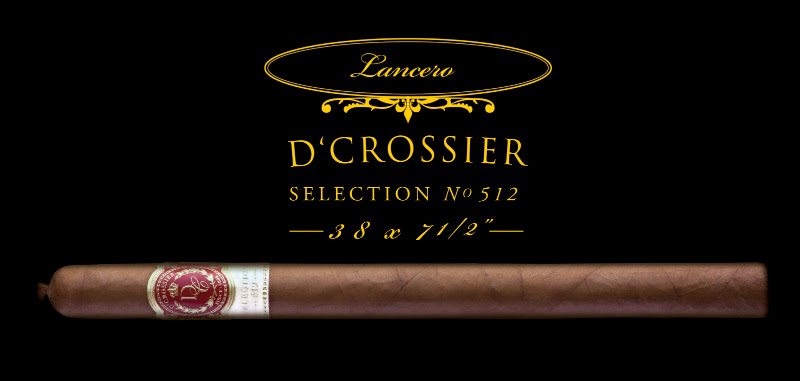 At the upcoming 2015 IPCPR Trade Show, Pure Aroma Cigars will introduce the D'Crossier Selection 512 Lancero. As the name indicates, this will introduce a traditional size 7 1/2 x 38 Lancero into the D'Crossier portfolio. D'Crossier is a line for which owner Isaias Santana Diaz pays homage to his family, and with the D'Crossier Selection 512 Lancero this cigar is in particular a tribute to Diaz's father.
In a press release announcing the Lancero, D'Crossier Cigars provided some context for how this cigar became an inspiration for his father.
As a child in Cuba, Santana-Diaz fondly remembers watching his father while he studied for his economics degree. He sat on his favorite green couch with a large text book in front of him and a cigar burning nearby. His father's cigar of choice was the lancero. That image remained with Santana-Diaz for more than 35 years. Inspiring him to release this homage to his father, whom Santana-Diaz credits with instilling both patience and his pursuit of perfection; traits that he proudly practices with his cigars.
Family was the inspiration for Diaz's primary brand. It was named D'Crossier as a tribute to his great grandfather Francisco Crossier. Originally Crossier came over to Cuba from France in search of a place to expand some vineyards he owned. It was there where Crossier expanded his passion for cigars. Diaz founded the company to complete his great grandfather's legacy.
In terms of the No. 512, this pays homage to the location in Costa Rica where D'Crossier cigars were first made back in 2008. The No. 512 is a line that was launched earlier this year with the release of the Flor de D'Crossier Selection No. 512.
The cigar itself features a different blend than Flor de Crossier.  It features an Ecuadorian Habano 2000 wrapper over Nicaraguan fillers.  The cigars are packaged in 20 count boxes with a suggested retail price of $13.00 per cigar.
Debuting at the 2015 IPCPR in New Orleans, the Selection 512 Lancero is 7-1/2 x 38 with an Ecuadorian Habano 2000 wrapper and Nicaraguan fillers. Presented in boxes of 20 with a suggested retail price of $13.00.