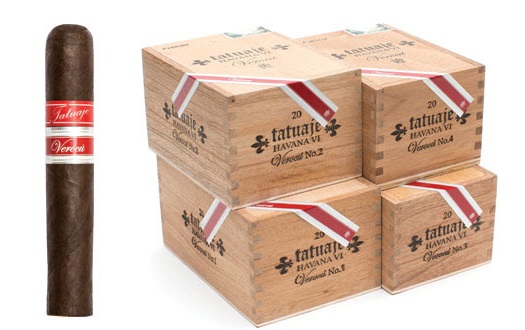 It has been talked about for some time, but Tatuaje Cigars is releasing its Tatuaje Verocu line as a regular production line. Verocu has its roots back in 2007 when it was created as a limited edition offshoot of the Tatuaje Havana VI (Red Label) line. The Tatuaje Verocu will be available in six sizes. The company is now taking orders and currently is shipping the cigar. The cigar is expected to be showcased at the 2015 IPCPR Trade Show.
Tatuaje Verocu is a modified blend which is pretty much said to be an amp'd up version the Tatuaje Havana VI line. The origins of the Tatuaje Verocu line go back to 2007 when Tatuaje Cigars' founder Pete Johnson created two limited edition cigars that were based off the original Tatuaje Havana VI line. One of those limited edition cigars was a 6 1/4 x 52 regional release to the West Coast of the U.S. called Verocu No. 1 (Exclusivo Lado Occidental). The other was a 5 1/2 x 54 regional release to the East Coast called Verocu No. 2 (Exclusivo Zona del Este).
In 2008, another limited edition Verocu appeared. This was 4 1/2 x 49 called Verocu No. 9 and this became a shop exclusive for Holt's Cigars in Philadelphia. In 2009, a 6 1/8 x 52 belicoso in a Tubo based on the blend called the Verocu Red Tubo was released in limited quantities.
In 2010, a regular production offering 4 x 40 version of the Verocu, called Verocu No.9 was relesaed.
All of the sizes, except the Verociu Red Tubo frontmark are now becoming regular production. Two new sizes, Verocu #3 (6 x 46) and Verocu #4 (5 1/4 x 50) are being introduced.
Blend Profile
Wrapper: Habano Ecuador
Binder: Nicaraguan
Filler: Nicaraguan
Country of Origin: Nicaragua (My Father SA)
Vitolas Available
All of the sizes will ship in 20 count cabinet boxes except for Verocu #5 which will remain in 50 count boxes.
Verocu #1: 6 1/4 x 52 (SRP $10.00)
Verocu #2: 5 1/2 x 54 (SRP $10.00)
Verocu #3: 6 x 46 (SRP $9.00)
Verocu #4: 5 1/4 x 50 (SRP $9.00)
Verocu #5: 4 x 40 (SRP $4.25)
Verocu #9: 4 1/2 x 49 (SRP $8.00)