Agile Cigar Reviews replace what we termed "Assessment Updates". The concept is the same, but the name is different. Agile Cigar Reviews use a lightweight, shorter format. These will never take the place of our comprehensive reviews. They are only used on blends we have previously assessed. This might be a blend we are re-scoring or providing a score for a first time. It might be a blend we are looking at in a different size. Today we look at the Diamond Crown Julius Caeser Robusto by J.C. Newman Cigar Company size. This is a cigar we previously did an assessment in the Toro size back in June, 2011.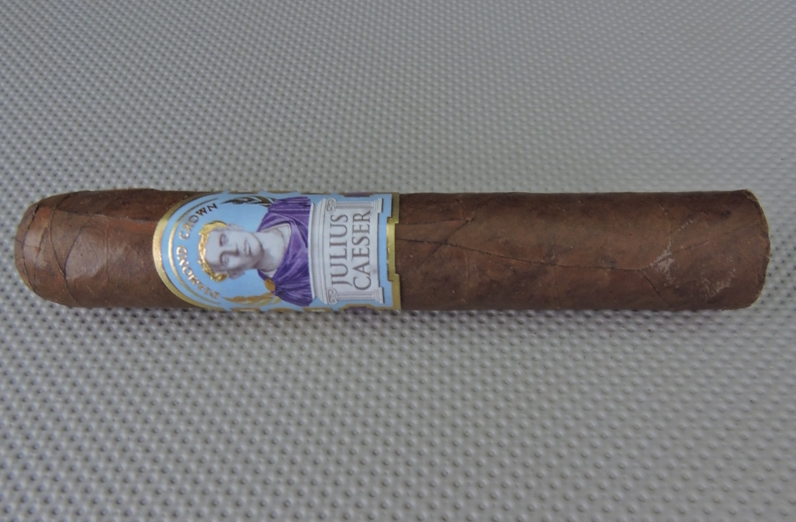 Wrapper: Ecuadorian Havana Seed
Binder: Central American Tobaccos
Filler: Central American Tobaccos
Country of Origin: Dominican Republic (Tabacalera A.Fuente y Cia)
Robusto: 4 3/4 x 52
The Diamond Crown Julius Caeser is a cigar that was introduced in 2010 to commemorate the 115th anniversary of J.C. Newman Cigar Company and the 135th birthday of company founder J.C. Newman. When Newman came to the United States from Hungary, he was told at immigration that he needed a middle name. It was suggested he take the name "Caesar", however the name was misspelled on the paperwork as "Caeser". The misspelling ended up staying with him, and thus why it is spelled the way it is on the cigar.
The Julius Caeser is made by the Fuente family in the Dominican Republic at the famed Tabacalera A.Fuente y Cia factory. The blend features an Ecuadorian Havana Seed wrapper over a binder and filler of "Central American Tobaccos". Today, we look at the 4 3/4 x 52 Robusto size. This particular cigar has over a year of age on it. There was even a little bit of plume on the footer.
The Julius Caeser Robusto is a cigar that really has aged nicely.  The flavor profile delivers notes of coffee, wood, and natural tobacco sweetness. There was a slight lemon component to the natural tobacco sweetness. There also is a slight red pepper note in the background The last third of the cigar saw a significant increase making the cigar a little more on the pungent side.  I found this was a well-balanced medium strength, medium-bodied cigar.
Overall I found this to be an impressive cigar. This is a cigar certainly worthy of a box purchase. It's also one of those cigars where you may want to smoke some now and put some away later as the aging is really going to make this cigar come into its own.
Summary
Burn: Excellent
Draw: Excellent
Complexity: Medium
Strength: Medium
Body: Medium
Finish: Good
Assessment: 4.0-Box Worthy
Score: 92
References
Original Assessment: Diamond Crown Julius Caeser
News: n/a
Price: $11.25
Source: Purchased
Stogie Geeks Podcast: Episode 165, Episode 166
Stogie Feed: Diamond Crown Julius Caeser Robusto