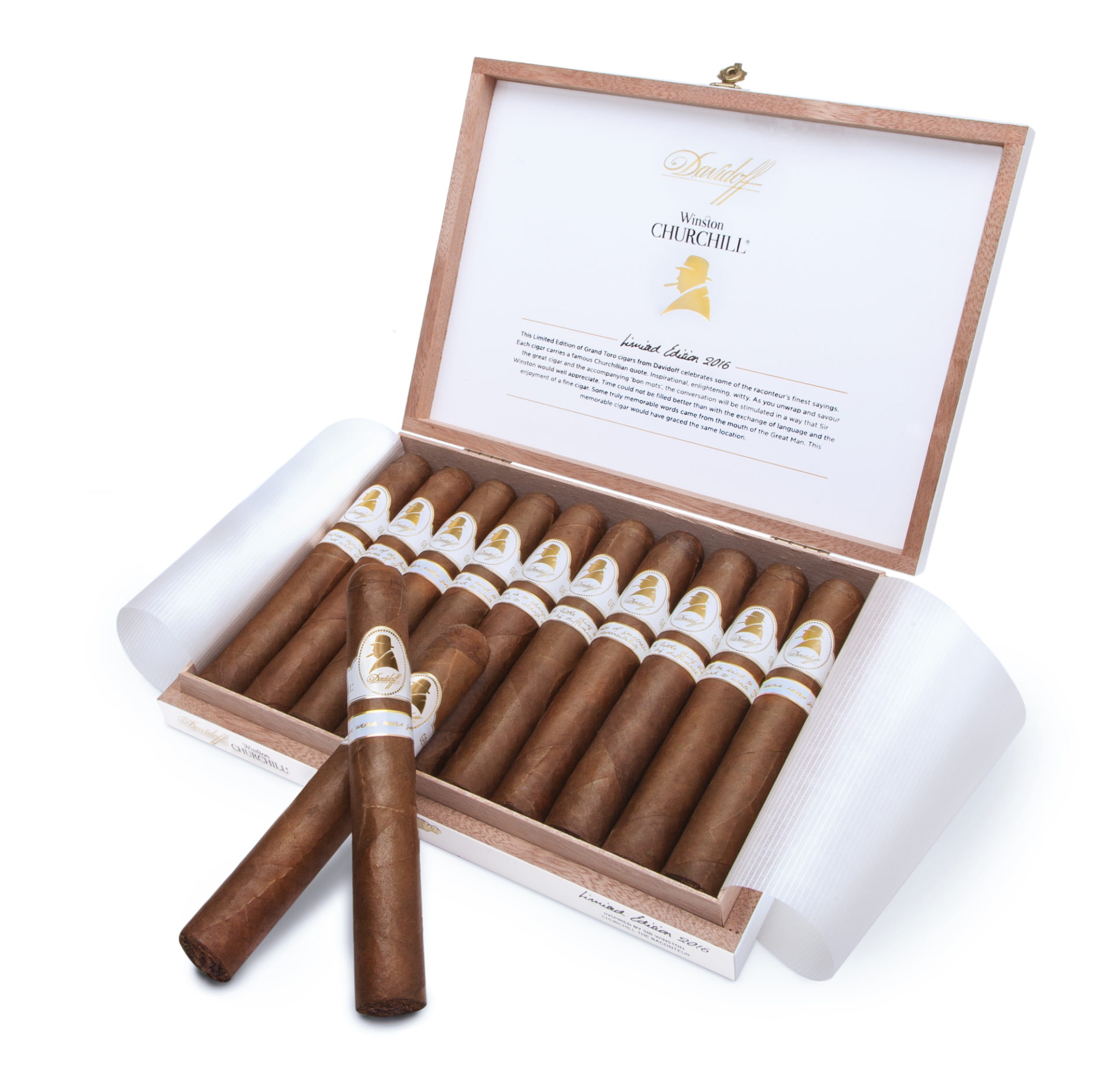 A limited edition release is coming to the Davidoff Winston Churchill line.  This month, the Davidoff Winston Churchill Limited Edition 2016 "The Raconteur" will be launched in the U.S. market. This cigar will be the first limited edition to be released under the revamped Davidoff Winston Churchill brand.
A raconteur is someone who is an exceptional storyteller. Sir Winston Churchill, the cigar enthusiast for whom the Davidoff Winston Churchill brand pays homage to was a considered a renewed master of word and storytelling. The Davidoff Limited Edition Raconteur pays homage to Churchill's skill by including a secondary band on each of his cigars that will contain one of his memorable sayings. These sayings include "There is no such thing as a good tax" and "I am easily satisfied with the very best". A unique characteristic of this project is that the cigars are packaged in ten count boxes and each of the cigars in the box will have a different saying.

The Raconteur will be released in one size – a 6 x 56 Gran Toro, which is the largest ring gauge under the Davidoff Winston Churchill to date. A total production of 6,000 ten count boxes has been allocated for this release. The blend features an Habano Ecuador wrapper over a Mexican binder and a mix of Dominican and Nicaraguan filler.
In a press release, Randolph Churchill, the great grandson of Winston Churchill said, ""With all of my great grandfather's achievements, it was his ability to be a great Raconteur, while meeting and dining with people, that he was able to persuade others to realise his objectives."
Charles Awad, Senior Vice President of Global Marketing & Innovation at Oettinger Davidoff AG, commented: "When talking to his great-grandson, Randolph Churchill, I discovered that Sir Winston had written as much as Shakespeare and Dickens put together. This Limited Edition honours one of the most dazzling raconteurs and prolific writers the world has ever known. As you unwrap these exceptionally complex cigars and discover the 'bon mots', we know you will savour them and that Sir Winston himself would appreciate the undoubted contribution his words will make towards the ensuing conversation."
While the Davidoff Limited Edition 2016 Raconteur will launch this month in the U.S., it will have a worldwide release in the first quarter this year.
At a glance, here is a look at the Davidoff Limited Edition 2016 Raconteur
Blend Profile
Wrapper: Habano Ecuador
Binder: San Andres Mexican Negro
Filler: Nicaraguan: Esteli Ligero, Condega Seco; Dominican: Piloto Visus, Hybrid Olor/Piloto Visus,  Piloto Seco, San Vincente Ligero
Country of Origin: Dominican Republic
Vitolas Available
The Davidoff Winston Churchill Limited Edition 2016 Raconteur is available in one size – a 6 x 56 Gran Toro.