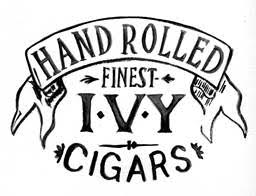 Jason Holly, owner and founder of Viva Republica is launching a new brand. Tonight Ivy Cigars will make its debut at an exclusive event being held at Casa de Montecristo in Countryside, Illinois. Ivy is described as a brand under its parent company Viva Republica that will boast a "completely different personality".  The brand's first release will be a Habano offering.
Ivy Cigars pays homage to Holly's days when he was an Ivy League student. In a press release announcing the project, Holly explained his inspiration for the project. "I used to smoke cigars in Harvard Yard when I was in school. In a store on the square I saw an old picture of JFK smoking a cigar in the Yard, the history and tradition is overwhelming and I wanted to create a brand that had that feel of nostalgia."
The first release under Ivy features an Ecuadorian Habano Corojo wrapper, a double binder of tobaccos from Cameroon and the Dominican Republic, and a filler with leaves from  the Dominican Republic's Cibao Valley and Nicaragua's Esteli and Condega regions.
There will be three sizes launched: Lamont (Corona – 5 1/4 x 43, $12.00 SRP), Dudley (Robusto – 5 x 50, $13.25 SRP), and Porcelain (Double Corona – 7 1/2 x 50, $14.50 SRP). "We have some other sizes already produced and aging," Holly said, "They will start shipping by the end of July."  Each of the three sizes are in ten count boxes.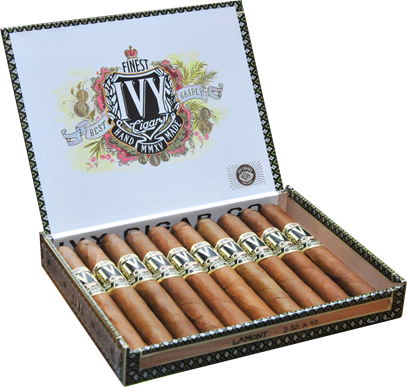 Ivy will be offered initially to 100 accounts before going full production.  "There's a very specific growth plan that we have conceived to properly introduce Ivy to the marketplace," commented Holly.
Packaging and blend-wise, Ivy will be a very different concept. The blends under Ivy are described as having "well-aged and nuanced tobacco as opposed to the power-forward blends of Viva Republica". The boxes will differ from the edgy packaging Viva Republica has become famous for. Ivy will be shipped in boxes designed by illustrator Glenn Wolk who has done product design for The Beatles, Ralph Lauren, and Tommy Hilfinger.
While Ivy is a very different brand, it will not replace Viva Republica."Ivy is a just another side of what we do and was designed to help connect with cognoscente consumers whose buying patterns tend to diverge from the core Viva offerings which are more value positioned, " commented Holly.
The initial Ivy Habano is just an initial release. Holly has said there will be future blends and releases in the Ivy line.
Consistent with its parent company, Ivy is produced at La Aurora S.A. in the Dominican Republic and is distributed by Miami Cigar and Company.
At a glance, here is a look at the new Ivy Habano blend:
Blend Profile
Wrapper: Ecuadorian Habano Corojo
Binder: (Double) Cameroon, Dominican Republic
Filler: Dominican Republic (Cibao Valley), Nicaragua (Esteli, Condega)
Country of Origin: Dominican Republic (La Aurora SA)
Vitolas Available
Ivy will be initially released in three sizes. Each is packaged in ten count boxes.
Lamont (Corona): 5 1/4 x 43
Dudley (Robusto): 5 x 50
Porcelain (Double Corona): 7 1/2 x 50
Photo Credits: Viva Republica