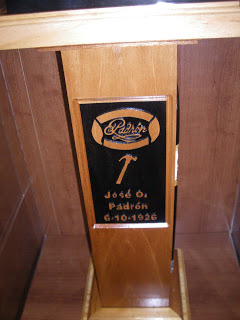 For the fourth time, Padron Cigars will once again be providing two exclusive cigars to the Tobacconist Association of America (TAA) as a part of the 2016 TAA Exclusive Series. This year's edition will be a limited production 5 1/2 x 60 vitola based on the Padron 1926 Serie and will be offered in both natural and maduro blends. The cigars are officially known as the Padron 1926 Serie No. 48. The reference to No. 48 refers to the fact that this was unveiled at the 48th TAA Convention that was held in Puerto Vallarta, Mexico back in March.
This is the second consecutive year Padron has released an exclusive TAA based on the 1926 Serie blend. Last year, Padron released a 5 1/2 x 50 Padron 1926 Sere No. 47 in both the Maduro and Natural blends. There have also been two TAA releases based on the 1964 Anniversary blend. In 2014, Padron released the Padron 1964 Anniversary Belicoso TAA Exclusive in both a Maduro and a Natural.  Padron also has a TAA Toro (in a natural and maduro release) that is an on-going release to TAA members.
Both the Padron 1926 Serie No. 48 Natural and Maduro will be offered in ten count boxes.
This is not the first 60 ring gauge to be made in the Padron 1926 Serie line. In 2013, Padron released the Padron 1926 Serie TP40, a 6 1/4 x 60 limited edition shop exclusive to Tobacco Plaza in Great Neck, New York.
The Padron 1926 Serie No. 48 makes up two of 16 blends as part of the 2016 TAA Exclusive Series. Six are on-going regular production, while the two No. 48 blends are limited editions for 2016. The cigars as a part of the TAA Exclusive Series are only available to TAA retailers.
At a glance, here is a look at the Padron 1926 Serie No. 48:
Blend Profile
The Padron 1926 Serie is a Nicaraguan puro:
Wrapper: Nicaraguan (Maduro or Natural)
Binder: Nicaraguan
Filler: Nicaraguan
Country of Origin: Nicaragua (Tabacos Cubanica S.A.)
Vitolas Available
Except where noted, each of the vitolas of the Padron 1926 Serie are available in a sun-grown natural or a maduro wrapper. All are in a box-press shape.
No. 48: 5 1/2 x 60
No. 47: 5 1/2 x 50 (2015 TAA Exclusive)
No. 1: 6 3/4 x 54
No. 2 5 1/4 x 52 (Belicoso)
No 6: 4 3/4 x 50
No. 9 5 1/4 x 56
No. 35: 4 x 48
40th Anniversary: 6 1/2 x 54 (Torpedo)
80th Anniversary: 6 3/4 x 54 (Perfecto)
LP40: 6 1/4 x 60 (Limited Edition to Tobacco Plaza – Maduro only)