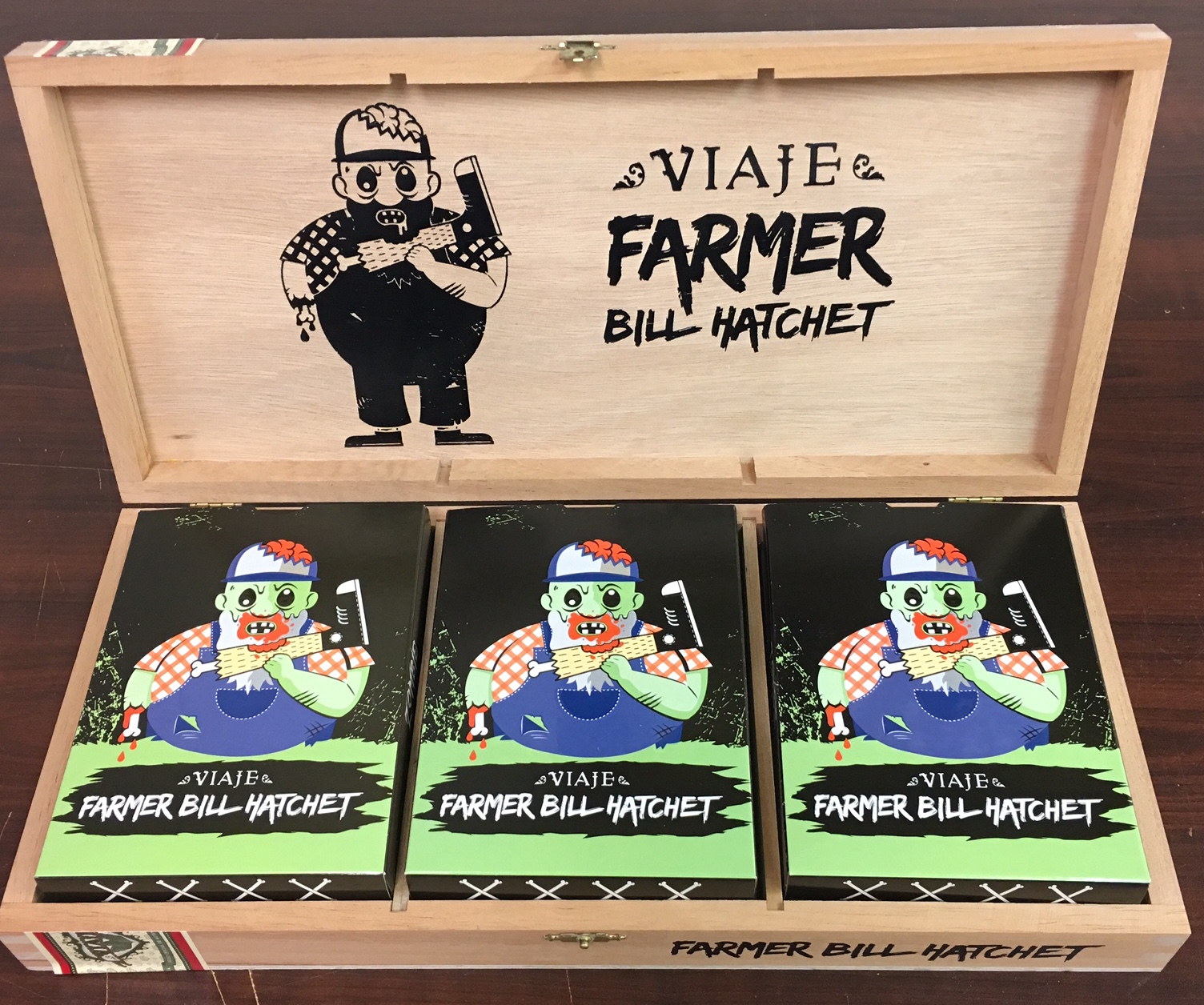 At the 2016 IPCPR Trade Show, Viaje Cigars gave a sneak preview of the Zombie Farmer Bill Hatchet, a new Thanksgiving release incorporating Viaje's Zombie theme. Today Viaje announced that this cigar will begin heading to retailers this week.
Farmer Bill Hatchet is a Thanksgiving-time seasonal release that made its debut in 2014 as a Nicaraguan puro. This year for the Zombie Farmer Bill Hatchet, Viaje's Zombie theme is incorporated into the release. How that theme influences the blend is still very much a mystery.
One thing we do know that is different about the Zombie Farmer Bill Hatchet is the size – which is a 5 1/2 x 54 box-press. The previous iterations of the Farmer Bill Hatchet had been 7 x 52 box-press.  Zombie Farmer Bill Hatchet is being offered to retailers in 30 count boxes – each containing six five packs of the Zombie Farmer Bill Hatchet.
The Zombie concept is one that is shrouded in mystery when it comes to the blend, but there is a story to it that ties several Viaje releases together. The story goes that Viaje Skull and Bones WMD (Weapon Mass Destruction) explodes. Because of radiation from the explosion, people end up mutating into "Zombies".  The Zombie Super Shot helps arm people for what Farkas calls the "Zombie Apocalypse".  The only way to cure the Zombies is with the Zombie Antidote. Meanwhile, what we have learned now is that as a part of this story, Farmer Bill Hatchet has been infected as a Zombie.
In addition to Zombie Farmer Bill Hatchet, Viaje announced that after a three-year hiatus, the Honey and Hand Grenades will be returning this month.
Photo Credit: Viaje Cigars