Daniel Marshall is celebrating 35 years in the cigar industry. To commemorate the occasion, Marshall is launching a commemorative limited edition humidor.
For the 35th Anniversary Humidor, Marshall drew inspiration from the first humidor he created back in 1982. This was a humidor constructed from Macassar Ebony wood from Sri Lanka for Alfred Dunhill of London. Marshall recently uncovered this original humidor that was literally buried in the archives of a shop for two decades.  "Blowing off two decades of dust and being reunited with this precious humidor, and to see the work I did 35 years ago, to build a humidor still functional and beautiful was one of the greatest feelings," commented Marshall in a press release.
The humidor became the inspiration for the 35th-anniversary project. "As this summer marked our 35th anniversary of creating affordable luxury, I thought, 'What could be more appropriate than commemorating this milestone of a life making humidors with a re-creation of that first humidor I made 35 years ago that held a bottle of Dunhill Whisky,'" added Marshall.
Like the original humidor, the new 35th Anniversary Humidor is made using the same Macassar Ebony wood. The humidor can hold up to 125 cigars. Included with the humidor are five never previously sold before DM Red Label Tasting cigars and ten DM Red Label Churchill cigars.
It also contains a unique bottle of Glenfiddich 21-year Scotch whisky that is not available in the United States and two Glenfiddich nosing glasses from Scotland.The bottle is hand-signed by Marshall and Kristen Grant, the great-great granddaughter of Glenfiddich founder William Grant.
"It is extremely rare to be able to collect a bottle of Glenfiddich signed by a direct descendant of the founder, William Grant. Ms. Grant has signed 100 bottles and I am forever grateful," comments Marshall. "She organized her distillery to provide us with 100 bottles of 21-year Glenfiddich in a special bottle that is not available in the U.S."
Each humidor is numbered and is signed and dated by Marshall. The limited edition number is also featured on a gold plate inside the humidor.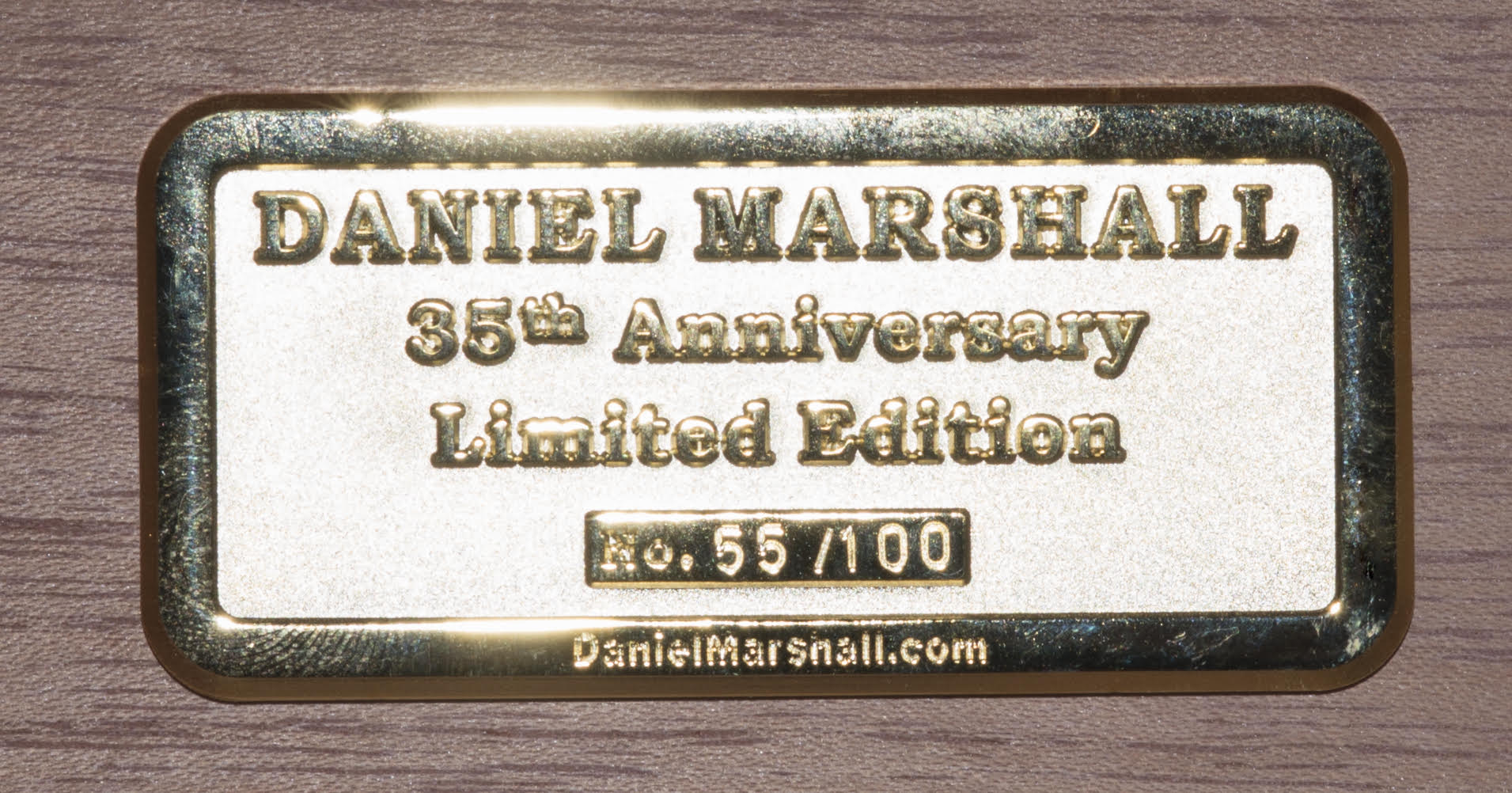 As a part of the 35th-anniversary milestone, Daniel Marshall will be hosting an event in collaboration with Glenfiddich, Balvenie and Davidoff of Genève at the Daniel Marshall Cigar Lounge, Kitzbuhel Country Club in Austria on January 20, 2018. Guests will include long-time customers and friends of Daniel Marshall, European cigar merchants, international film stars, champion skiers, and leaders in business and government.
"I have loved our cigar world for most of my life. This year marks a significant milestone that leaves me humbled and grateful. I would like to thank every DM cigar connoisseur and humidor collector for making it possible for me to realize my dreams of going from boy to man, from a California surfer to a designer and manufacturer of fine cigars and luxury humidors for the most discriminating luxury goods houses and collectors in the world, achieving the No. 1 Rating for Humidors and being able to leverage our collections to raise funds for vital causes worldwide" added Marshall.
There will be 100 Daniel Marshall Limited Edition Humidors produced. Each humidor package will retail for $1995.00 USD.
Photo Credits: Daniel Marshall