---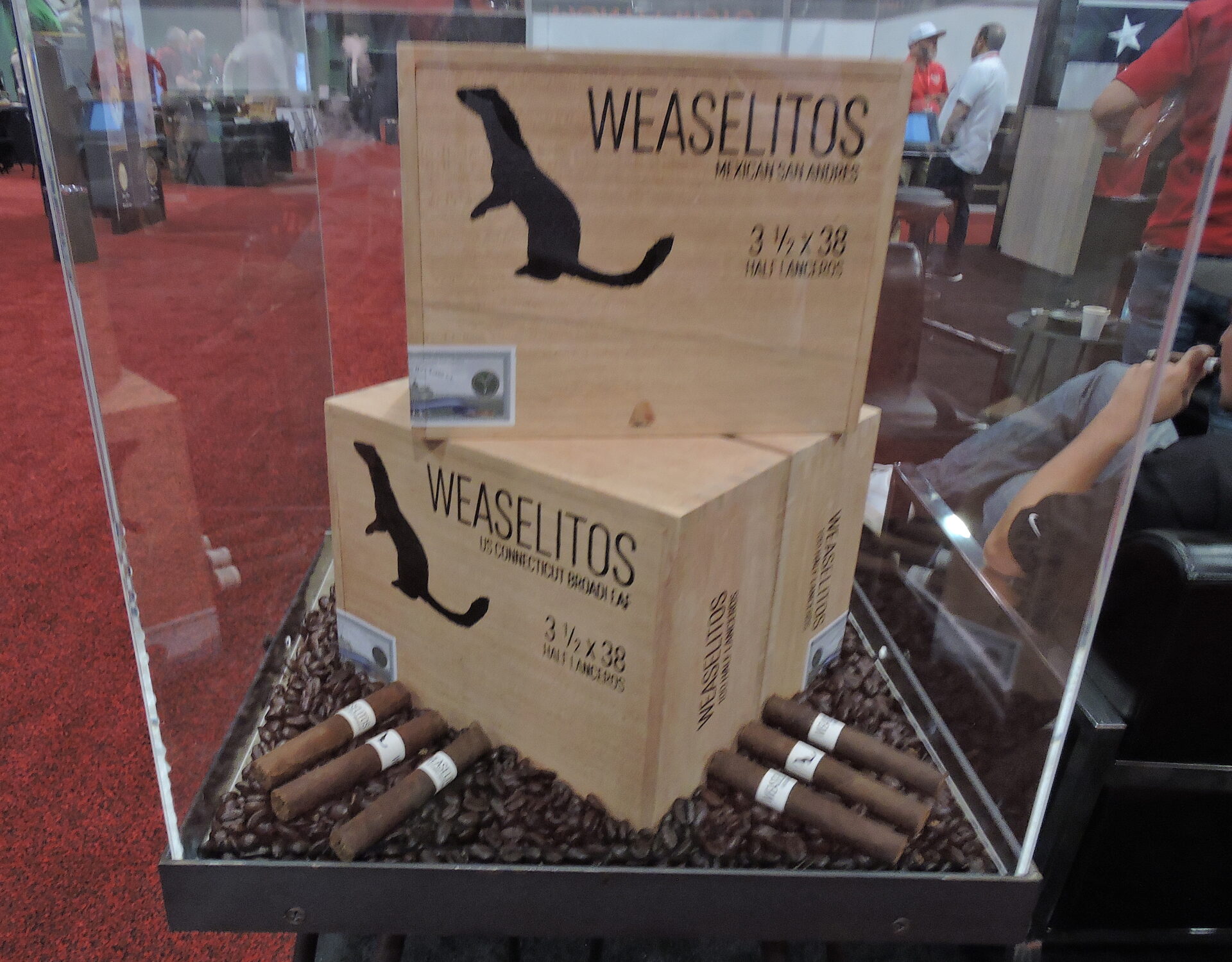 At the 2018 IPCPR Trade Show, RoMa Craft Tobac introduced a new line of half lanceros known as Weaselitos. It's a cigar that pays homage to the name "weasels" – which RoMa Craft Tobac has (in humor) referred to someone often looking to find a way to pilfer a free cigar off someone.
Weaselitos consists of three blends based on the popular CroMagnon, Aquataine, and Neanderthal blends. For this project, the lancero sizes of these cigars are bunched together (i.e. CroMagnon Atlatl, Aquatiane Atlatl, and Neanderthal OM). The cigars are then literally cut in half where a wrapper is applied.
The result is 3 1/2 x 38 half lancero in three blends: Weaselitos Connecticut Broadleaf (based on CroMagnon), Weaselitos Ecuador Habano (Aquataine), and Weaselitos Mexican San Andres (based on Neanderthal). The half lanceros are placed in 100-count boxes. There is no cap placed on the cigar.
The interesting twist is that each 100-count box contains an even number of the upper and lower halves of the split lanceros – allowing for the cigar consumer to take advantage of the leaf placement of both halves.
As for availability, that is one thing that is a question. It's quite possible that due to FDA regulations, this brand may end up being sold in Germany or directly in Nicaragua, forcing U.S. consumers to order from a retailer abroad. However, no concrete plans have been revealed as of yet.
At a glance, here is a look at the Weaselitos:
Weaselitos Connecticut Broadleaf
Wrapper: Connecticut Broadleaf
Binder: Cameroon
Filler: Nicaraguan
Country of Origin: Nicaragua (Nica Sueno)
Half Lancero: 3 1/2 x 38
Weaselitos Ecuador Habano
Wrapper: Ecuadorian Habano
Binder: Cameroon
Filler: Nicaraguan
Country of Origin: Nicaragua (Nica Sueno)
Half Lancero: 3 1/2 x 38
Weaselitos Mexican San Andres
Wrapper: Mexican San Andres Maduro
Binder: U.S. Connecticut Broadleaf Maduro
Filler: U.S. Pennsylvania Double Ligero (GR-S1), Nicaraguan  Dominican Republic (Olor)
Country of Origin: Nicaragua (Nica Sueno)
Half Lancero: 3 1/2 x 38
Photo Credit: Cigar Coop