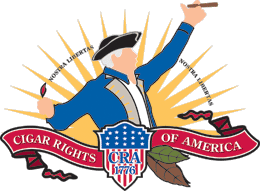 This month Cigar Rights of America (CRA) is celebrating its tenth anniversary. This week also marks another milestone for CRA in that it is the tenth anniversary of its "Freedom Tour", which essentially was a launch tour for Cigar Rights of America.
It was shortly after the 2008 Retail Tobacco Dealers Association (RTDA, now known as IPCPR) where a group of retailers realized a consumer coalition was necessary in the fight for cigar rights. A decade ago the industry was facing smoking bans, tobacco taxes (including the SCHIP tax which if implemented as proposed would have wiped out the industry), and threats by Congress to regulate premium cigars (which unfortunately became a reality).
As CRA was forming, there was no staff at the time, but more or less a vision. On August 19th, twenty leading figures from the cigar industry went on a "Call to Action" campaign. It kicked off in New York City on August 19th. The group divided and conquered – going to Milwaukee, Minneapolis, and Chicago before finishing up in Orlando. Names who participated included: Carlos Fuente Sr. and Jr., Ernesto Perez-Carrillo, Avo Uvezian, Jorge Padrón, Rocky Patel, Litto Gomez, Robert Levin, Tim Ozgener, Manuel Quesada, Charlie Toraño, Jose Oliva, Jonathan Drew, Pete Johnson, Keith Park, Nick Perdomo, Christian Eiroa, Eric Newman, Peter Banninger and Paolo Garzaroli.
The idea of the tour was to build awareness in the consumer ranks in terms of the challenges the industry faced as well as to educate people on planned mission for CRA.
To commemorate the milestone of the Freedom Tour, CRA is running a promotion that runs through Friday September 7, 2018 that will allow consumers to join or renew their membership at a cost of $10.00 for one year (a savings of $25.00 for the upcoming year).