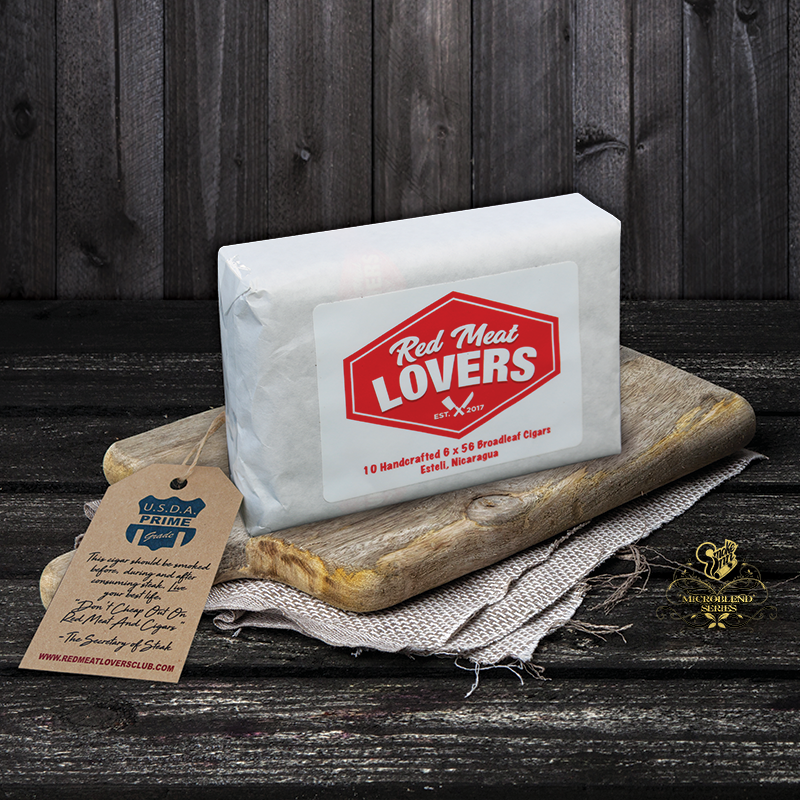 Smoke Inn Cigars has announced the 12th offering of its Microblend Series. This time Smoke Inn is teaming up with Steve Saka of Dunbarton Tobacco & Trust and South Florida's Red Meat Lovers Club for a cigar called the "Red Meat Lovers Club."
It's a project that has allowed Saka to combine his passion for high-grade tobacco and red meat as he crafted a cigar to pair perfectly with a steak dinner.
"This is one of those projects that I was beyond excited to do." He continued, "Cigars and steaks go hand in hand, but to my knowledge, no one has ever actually developed a blend specifically created to be enjoyed intentionally together as a 'pairing.' You would think this would be a rather straightforward task, but I took the responsibility very seriously in the selection of the various tobaccos to best compliment the hearty nature of the beef. It required the sacrifice of many fine heads of locally sourced beef!" commented Saka in a press release.
Saka blends the cigar in Estelí, Nicaragua while literally "under the influence" of the country's finest beef – a porterhouse known as "chuleta de dos lomos"." To pair the cigar, Saka selected a Connecticut Broadleaf No. 1 Dark wrapper, a San Andrés Negro Oscuro binder, and a combination of Nicaraguan and American tobaccos. According to the press release, the selection of tobaccos is said to be "Level 3" in terms of strength – which means "gut-punching full".
The cigar itself is a  6 x 56 vitola with a Rosette Pigtail Cap. It is packed in soft-pack bundles of ten. A total of 500 bundles were produced for the project.

The Red Meat Lovers Club is a South Florida based organization where members regularly gather in "meatings" – bonding over the desire to eat beef, drink, smoke, and have a good time. The cigar pays homage to the group.
"When Abe told me that my organization, Red Meat Lovers Club, was selected as a partner in this cigar project, I had to put down the bone-in ribeye I was eating for breakfast, and I yelled out, 'that's delicious!'" commented Evan Darnell, better known as the "The Secretary of Steak" for the Red Meat Lovers Club.
The Red Meat Lovers Club cigar will go on sale at noon Eastern Standard Time on January 17th, 2019. Sales will be handled through Smoke Inn retail locations and its online store www.smokeinn.com.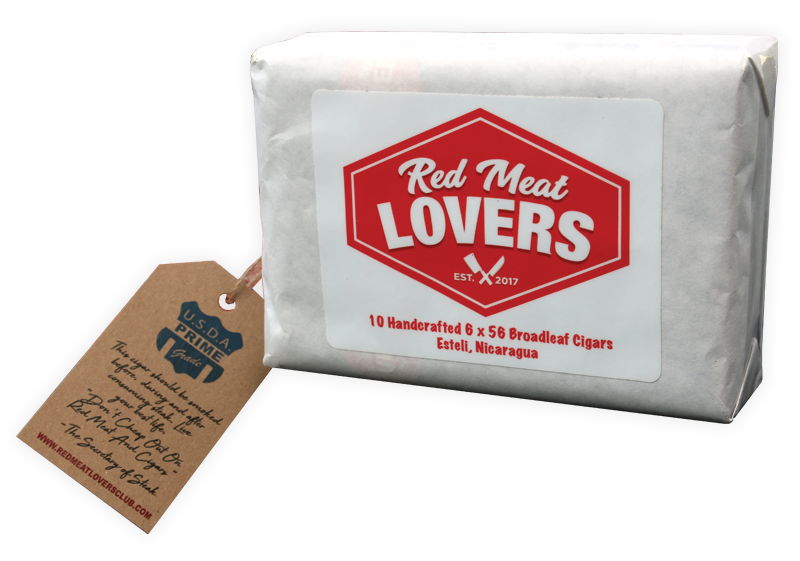 At a glance, here is a look at the Red Meat Lovers Club Cigar:
Blend and Origin
Wrapper: Connecticut Broadleaf No. 1 Dark (USA)
Binder: San Andrés Negro Oscuro (Mexico)
Filler: Esteliano La Joya C98 Seco (Nicaragua) | Ometepe Viso (Nicaragua) | Jalapa Cofradia Ligero (Nicaragua) | Pennsylvanian Seedleaf Ligero
Country of Origin: Nicaragua
Factory: Nicaraguan American Cigars, S.A. (NACSA)
Vitolas offered
Size: 6 x 56
Photo Credit: Supplied by Smoke Inn