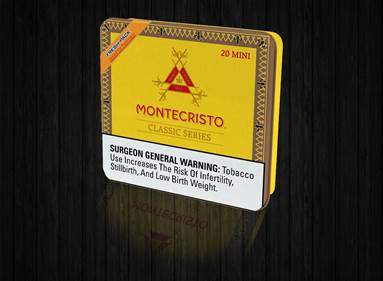 Altadis U.S.A. has announced its long-time Montecristo Classic offering in a mini cigarillo format packaged in a tin.
As Altadis U.S.A.'s senior brand manager Eddy Guerra explains, "The idea for a Montecristo Mini Cigarillo comes from our desire for a quality cigar experience even when time is short. I really look forward to enjoying this product when sipping my Café Con Leche coffee after my lunch break, for example. Just because you don't have a lot of time, doesn't mean you can't enjoy a beautiful cigar experience.
According to Altadis U.S.A the Montecristo Classic Mini Cigarillo features the same Connecticut Shade wrapper and Dominican fillers found in the Montecristo Classic line.
Each tin will contain 20 Montecristo Classic Mini Cigarillos. Pricing will be set at $13.75 per tin.