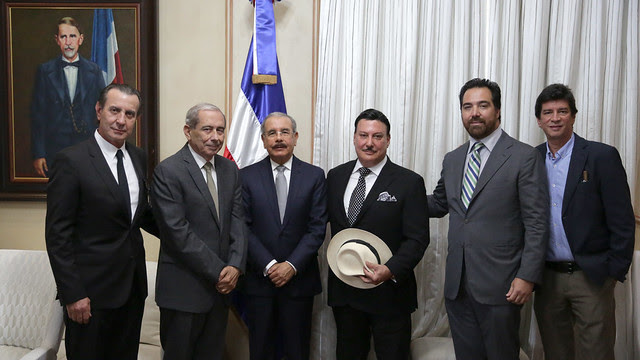 Dominican Republic President Danilo Medina met with leaders of the premium cigar industry in his country. The agenda of the meeting was to make him aware of the concerns and challenges resulting from regulations being implemented in the United States by the U.S. Food and Drug Administration (FDA).
The meeting was held in the Private Room of the National Palace and included: Carlito Fuente and Ciro Cascella, from the Fuente Tabacalera; Litto Gómez, from La Flor Dominicana; Jochy Blanco, from La Tabacalera La Palma; and Alfredo Gómez, from Tabacos de Villa González.
In the meeting, the cigar leaders recommended to Medina that a request to establish an exception for premium hand-made cigars be made to the United States.
The leaders cited the importance of the premium cigar industry to the Dominican economy. In the meeting, it was noted that the reason why premium cigars had been subject to regulation was because of use by young people and the impact on public health. However, it was pointed out there have been multiple studies including the National Tobacco Survey for Adults 2013 and the National Longitudinal Mortality Study of 1973-2011 showing that the levels of use of premium cigars by young people and of health risks are statistically insignificant, compared to other tobacco products. These findings had also been confirmed in articles published in the Journal of the American Medical Association.
A press release from the President's office stated, "The government of the Dominican Republic encourages the FDA to take these studies into account, as they demonstrate the need for a new regulatory approach for premium cigars made by hand. He (Medina) is also concerned about the economic impact that FDA regulations would have on employment and manufacturing in our country."
The Dominican government also said implementation of these regulations would represent a threat to an industry that is a key to the Dominican economy, with more than 300,000 families benefiting directly. The Dominican Republic exports 90 percent of the tobacco it produces in both raw and manufactured cigars – with the cigars being most popular in the United States.
Photo Credit: Photo supplied by Cigar Rights of America