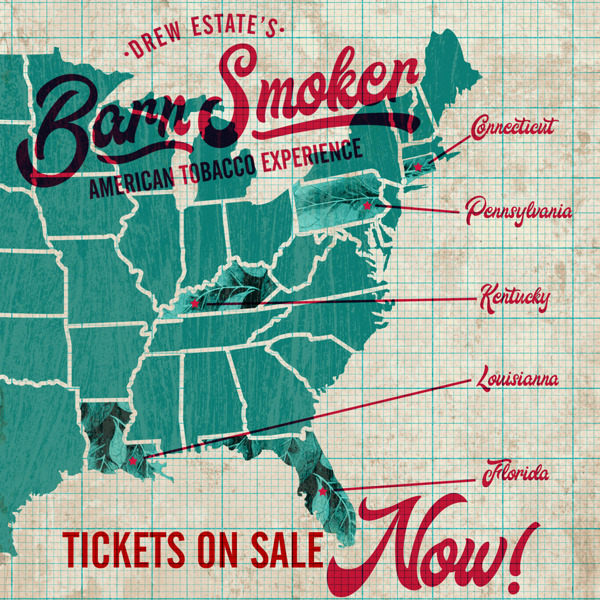 Drew Estate has announced its 2019 Barn Smoker Schedule. This year, the events return to Florida, Pennsylvania, Connecticut, Kentucky, and Louisiana.
The Barn Smoker concept is an event unique to Drew Estate. It allows the consumer to go on-site to learn about how tobacco is grown and processed by the people who do the work. This will include tours of the barns, listening to people involved firsthand in the process, and tasting tobaccos. The programs also feature "activation stations" for Drew Estate brands and will now include Pappy Van Winkle and Joya de Nicaragua.
There will be three ticket levels for this year's Barn Smoker Events.
VIP Experience Ticket with Dinner Sponsored by Xikar and Cigar Caddy – Each VIP Experience Attendee will be a guest at an intimate dinner the evening before or after the Barn Smoker hosted by Jonathan Drew, Willy Herrera, Pedro Gomez, and the entire Drew Estate team. As part of the VIP Experience ticket, each guest will receive three rare Drew Estate cigars and much more. In addition, VIP attendees will also receive a premium swag package at the Barn Smoker.
VIP Swag Ticket Sponsored by Xikar and Cigar Caddy – VIP Swag Ticket holders at the Barn Smoker will receive a premium swag package upgraded over General Admission.
General Admission – Admission to the Barn Smoker with general admission swag.
There will also be a Barn Smoker "All Stat" package where guests can purchase tickets to all five Barn Smoker events. Those who purchase this package will receive a Barn Smoker Challenge Coin Set including a Master Coin only available to Barn Smoker "All-Stars." The Master Coin will also have future discounts and benefits at Barn Smoker 2021.
The dates and locations of Drew Estate's 2020 Barn Smokers are:
Florida Barn Smoker in Clermont, FL on May 16th, 2020
Pennsylvania Barn Smoker in Strasburg, PA on July 25th, 2020
Connecticut Barn Smoker in South Windsor, CT on August 8th, 2020
Kentucky Barn Smoker in Hopkinsville, KY on September 26th, 2020
Louisiana Barn Smoker in Convent, LA on October 24th, 2020
The Cigar Coop Prime Time Show will once again broadcast its "Florida Barn Smoker Pre-Game Show" on May 14th, live from Orlando, Florida with Jeff Borysiewicz of the FSG Tobacco Farm!
Tickets are available for purchase at www.barnsmoker.com. Any availability or event ticket questions should be directed to Drew Estate.