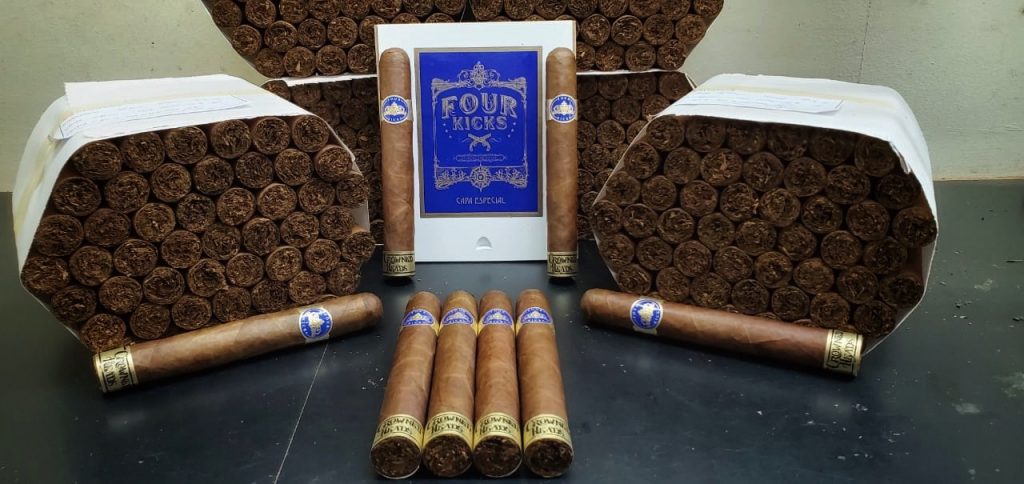 Crowned Heads has announced its latest extension to its Four Kicks brand. This time it is a Sumatra-wrapped offering called the Four Kicks Capa Especial. It's a project that goes back to the time when Crowned Heads was first getting their company off the ground.
When Crowned Heads launched in 2011, they made a decision to work with Ernesto Perez-Carrillo Jr. and his Tabacalera La Alianza factory in the Dominican Republic.  The Four Kicks was the first project released by Crowned Heads. At the time they were finalizing blend selection, there were three options available. Two of the blends favored by Crowned Heads had an Ecuadorian Habano wrapper. The third option was favored by Perez-Carrillo and it featured an Ecuadorian Sumatra wrapper with a slightly tweaked filler. Ultimately Crowned Heads selected one of the Habano blends.
Nine years later, Crowned Heads decided to revisit Perez-Carrillo's preferred blend and thus the Four Kicks Capa Especial was born. The Four Kicks Capa Especial consists of an Ecuadorian Sumatra wrapper over Nicaraguan binder and filler. It is packaged in 24-count cabinet boxes in three sizes: Corona Gorda (5 5/8 x 46),  Robusto (5 x 50), and Sublime (6 x 54).
The Four Kicks Capa Especial joins the original Four Kicks, Four Kicks Maduro, and the limited edition Mule Kick as offerings under Crowned Heads Four Kicks line.
At a glance here is a look at the Four Kicks Capa Especial:
Blend and Origin
Wrapper: Ecuadorian Sumatra
Binder: Nicaraguan
Filler: Nicaraguan
Country of Origin: Dominican Republic
Factory: Tabacalera La Alianza
Vitolas Offered
Corona Gorda: 5 5/8 x 46
Robusto: 5 x 50
Sublime: 6 x 54