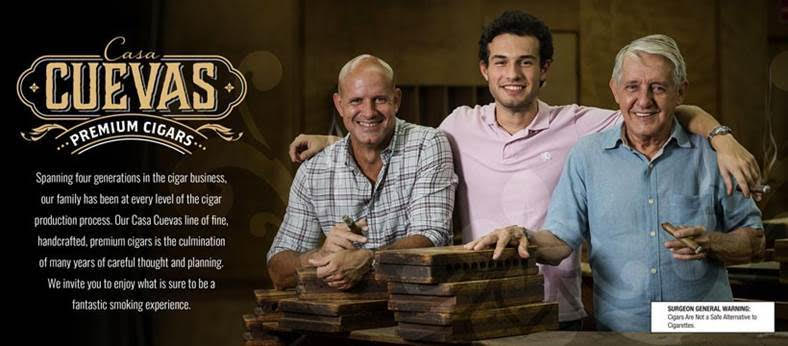 The following is a press release from Casa Cuevas Cigars:
Casa Cuevas Cigars announces that Carter Skinner, co-owner of Tiburon Boutique Cigars, will represent Casa Cuevas Cigars in the great state of Texas. Skinner, a Texas native from the city of Wharton has led a very colorful life, which once included musical aspirations.
Skinner started smoking cigars in the '80s, just before the first "boom." He was fortunate to have a friend whose grandfather was a tobacco grower in Cuba from the 1930s until the 1950s. From his grandfather he learned about the basics of cigars. Cigars became a lifelong passion and after many years in the corporate world, he, along with business partner, Chris Osgood, recognized a need for better representation in the boutique cigar industry. After much investigating and picking the brains of friends in the industry, he formed Tiburon Boutique Cigars in 2016. Before cigars became a profession for Skinner, he entered the world of music, recording albums along the way.
Skinner, who majored in voice at the University of Texas, became enamored with the Blues scene in Austin, which is known as the "Live Music Capital in the World."
Skinner said: "I was able to not only meet but play with some of my biggest Blues heroes. I ate up every opportunity to play with many popular musicians. By the time I graduated, I realized I could make a lot more money pursuing other endeavors and never really used my degree."
Things came full circle as Skinner came back to his love of cigars. While music is still part of his life, he now concentrates on working closely with boutique cigar brands in his home state of Texas.
Skinner stated: "Casa Cuevas Cigars delivers what boutique cigars are all about: Ownership with dedication and passion for cigars, utilization of the finest tobaccos and quality manufacturing. All of the best, along with price points that afford the consumer the opportunity to have the boutique cigar experience; without breaking the bank."
President of Casa Cuevas Cigars Luis Cuevas Jr. said:" Carter Skinner and Chris Osgood are true to the bone cigar people. Their personable disposition fits right in with the Cuevas family. We look forward to introducing Casa Cuevas Cigars to the great people of Texas."