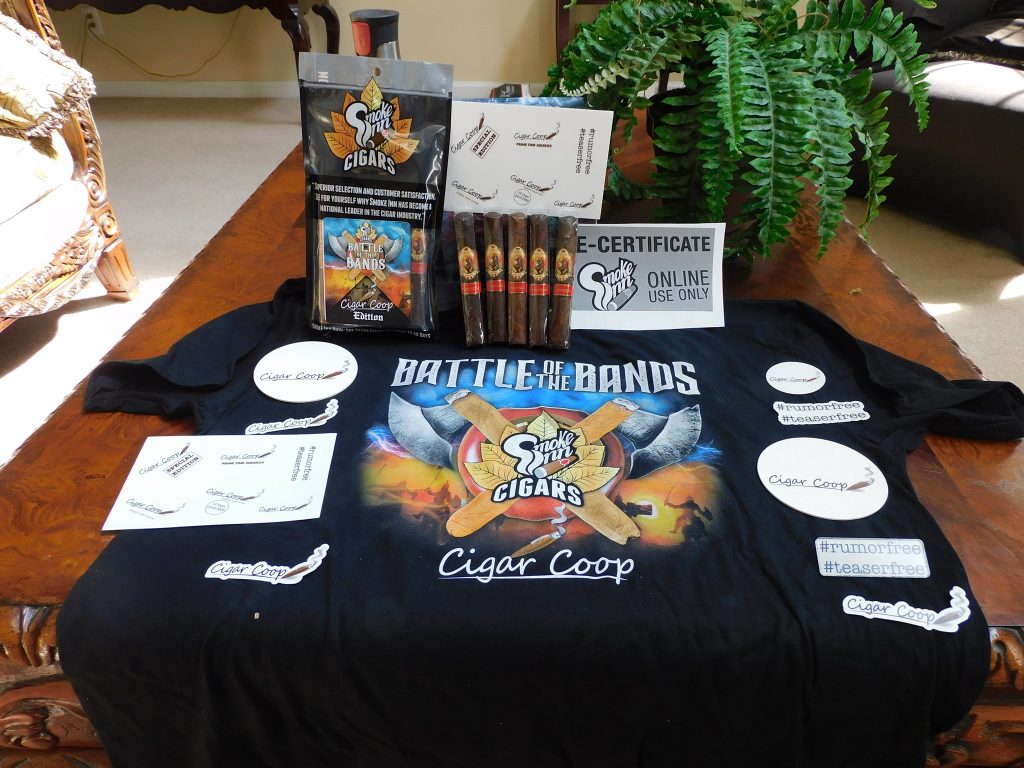 Thank you to everyone who bought and/or promoted the Cigar Coop Battle of the Bands Sampler pack for Smoke Inn. We didn't expect to win, and didn't win. At the same time, this was a contest that was a lot of fun. This author learned a lot, and there was some great competition. I was particularly moved every time someone commented that they took the time to buy and enjoy the sampler pack assembled.  That being said, sometimes when you lose, you win. I feel really good the way we approached this competition and wouldn't change a thing.
That being said, it's time to give back. Given things are not easy for people, I've decided to assemble a great sampler pack. It's open to all. In other words NO PURCHASE REQUIRED AND EVERYBODY GETS A FAIR SHOT. The giveaway consists of five things and is valued at over $200.00!
A limited edition Cigar Coop Battle of the Bands T-Shirt (XL Size Only – no substitutions). These are quite limited.
A commemorative Cigar Coop Battle of the Bands Sampler featuring the E.P. Carrillo Elencos Don Rubino, My Father El Hijo, Perdomo ESV Maduro Box Pressed Regente, Aladino Cameroon Robusto, and the Cigar of the Decade, the La Aurora Cien Anos Edición Especial.
An additional FIVE PACK of the Cigar of the Decade, La Aurora Cien Anos Edición Especial.
A Cigar Coop Mini Swag Kit (Miscellaneous promotional items: Stickers, Magnet, Coasters)
A $50.00 GIFT CERTIFICATE to SmokeInn.com (WILL BE FULFILLED VIA EMAIL ONLY)
To Enter:
LEAVE A COMMENT BELOW EXPLAINING WHY THE CIGAR COOP BATTLE OF THE BANDS SAMPLER WAS AWESOME.
Winner will be selected at random. VERY IMPORTANT – WINNER WILL BE ANNOUNCED IN THE COMMENT SECTION and WE WILL ATTEMPT TO CONTACT VIA EMAIL. You have 24 hours to claim your prize via our instructions, or we will void the winner. Please do not enter if you cannot promptly respond. You can bookmark and check this page for the winner.
DO NOT PUT COMMENTS ANYWHERE ELSE BUT ON THIS PAGE. THEY WILL NOT BE CONSIDERED VALID ENTRIES! All comments are moderated, so they may not appear until reviewed. Only eligible comments will be posted to keep the contest selection process simple.
If you don't know about the sampler. You can watch the video here explaining it.
Also, the contest uses our general rules – be sure to read them. The one exception is the 90-day window for winning a contest has been waived. The contest will run through October 24th and will require a minimum of 25 eligible comments from the cigar community in order for a prize to be rewarded. We will also cover the drawing live.
This is a big thank you to our fans and we hope you have a little fun doing it. Good luck and thank you again!
Photo Credits: Cigar Coop, except where noted.
Update 10/17/20: If we get to 100 valid entires, the Smoke Inn Gift Certificate will be raised to $100.00.