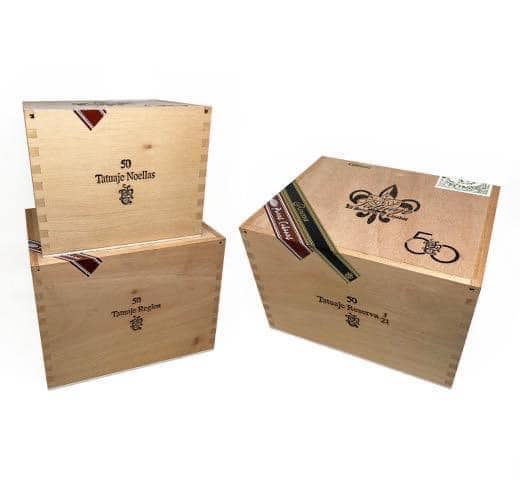 Pete Johnson recently celebrated his 50th birthday and in honor of the event, he is releasing aged productions of the Noellas, Regios, and Reservas J21 offerings in the Tatuaje Seleccion de Cazador line.
In a statement on social media, Johnson said, "They are normal Noellas, Regios and J21's from our production in Miami. The branding and bands are the same as the 25 count boxes. The difference is that the cigars come from older production and the cigars are packed in foil paper inside the cabinet of 50. Only 100 cabinets of each were made to celebrate my 50th birthday and they will not be made again."
The special Noellas (5 1/8 x 42), Regios (5 1/2 x 50), and Reserva J21 (5 x 50) were all produced in Miami and feature an Ecuadorian Habano wrapper over Nicaraguan binder and filler.
Photo Credit: Tatuaje Cigars