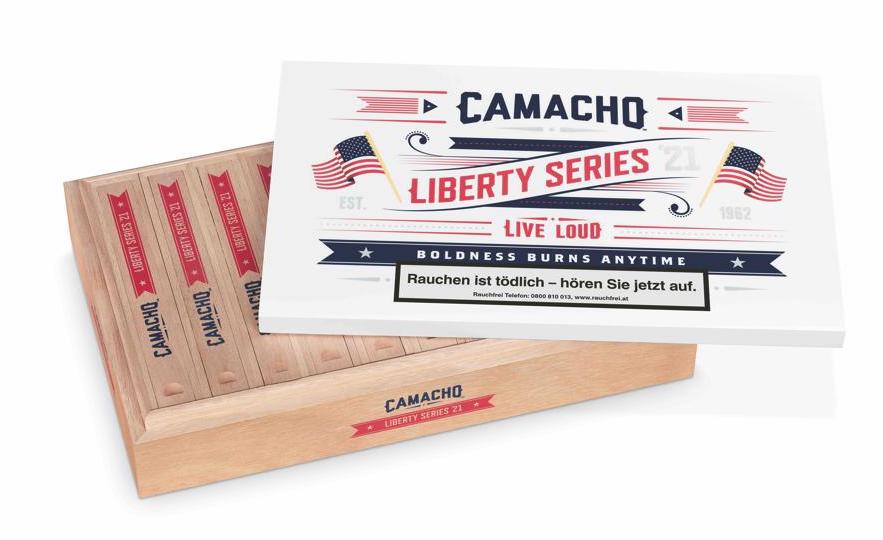 Camacho has announced its 2021 edition of its Liberty Series. The Camacho Liberty 2021 is scheduled to hit select markets in the month of July.
The Camacho Liberty series was first launched in 2002, and since then has been an annual release. The series typically has released a new blend each year in a single size packaged in a coffin. For the most part, the release of the Camacho Liberty has been tied to the annual Independence Day celebrations. The lion's share of these releases have been in Camacho's iconic 11/18 Figurado. The Camacho Liberty 2021 features a 7 x 48 Churchill format.

The blend features an Ecuadorian wrapper over a Nicaraguan binder and fillers from the Dominican Republic and Honduras. As with past Liberty releases, the Camacho Liberty 2021 cigar is packaged in individual coffins.

"Creating a cigar inspired by the most prized of American ideals as a companion to our nation's Anniversary demands the greatest of respect and attention. While the Camacho smoker is as varied as the tobaccos we've used from Honduras, Nicaragua, Ecuador and the Dominican Republic, they are united in appreciation for our liberty and the sacrifices that make it possible. This complex and bold blend delivers evolving flavors yet consistent enjoyment. We are proud of this 19th installment of the Camacho Liberty Series and are honored to have the opportunity to create a blend that represents the Americana characteristics and ideals", says Edward Simon, CMO of Oettinger Davidoff AG in a press release.
Production of the Camacho Liberty 2021 is limited to 2,550 20-count boxes.