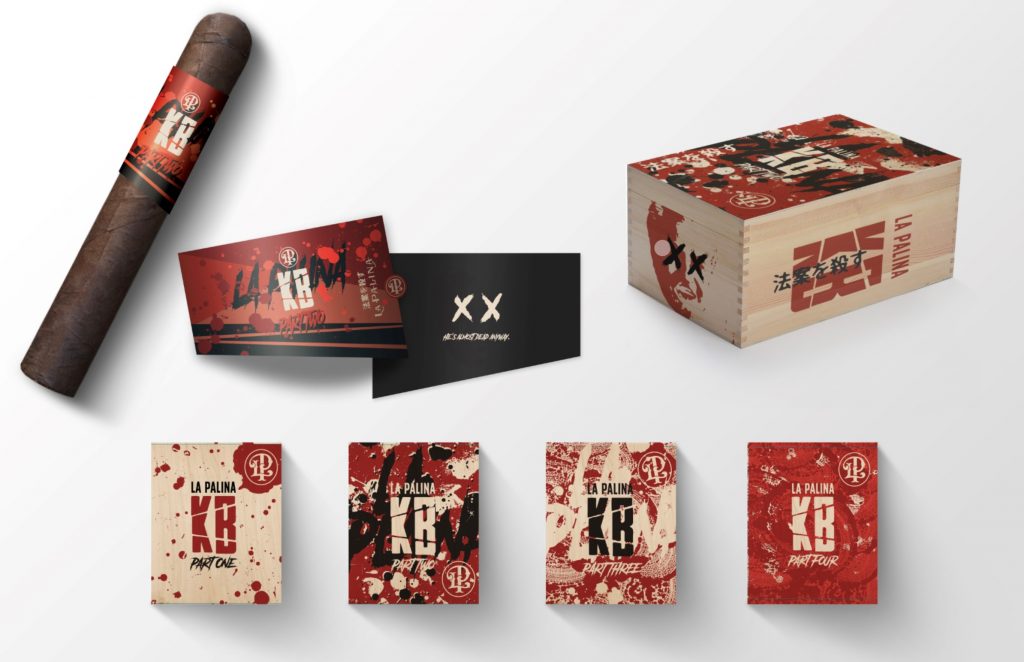 At the 2021 Premium Cigar Association (PCA) Trade Show, La Palina Cigars will introduce the La Palina KB Series. It's an offshoot of a vitola that was introduced in 2012 as a part of the El Diario line.
KB stands for "Kill Bill" and it goes back almost ten years ago when a Petit Corona size was created for the El Diario. The prototype of the petit corona was said to be so strong that it knocked La Palina owner Bill Paley for a loop. The vitola was named KB and it eventually became a popular offering in the La Palina catalog.
For 2021, La Palina KB now gets its own line with its own packaging and branding. In addition to the Petit Corona (4 1/4 x 40) which has now been dubbed "Part One", there are three other vitolas: Part Two (6 x 40), Part Three (5 x 52), and Part Four (6 x 54). La Palina says the blends of Part Three and Four have been tweaked with higher ligero primings. The blend consists of a Honduran wrapper over Nicaraguan binder and filler.
"We felt that this powerhouse blend should be paired with truly memorable brand imagery, if not a bit of tongue-in-cheek to match the astonishing flavor profile. Furthermore, the addition of new sizes and new packaging in the KB series is a direct response to fan requests worldwide. I always knew that the KB series had more to offer our customers. This is why we tweaked the blends in the new larger sizes, adding higher primings of ligero in KB (Part 3 & Part 4) to offer a full-bodied yet succulent smoking experience," commented owner Bill Paley in a press release.
Each of the four sizes will have a unique set of packaging associated with it.
The 2021 PCA Trade Show opens July 10 in Las Vegas, Nevada.
Photo Credit: La Palina Cigars