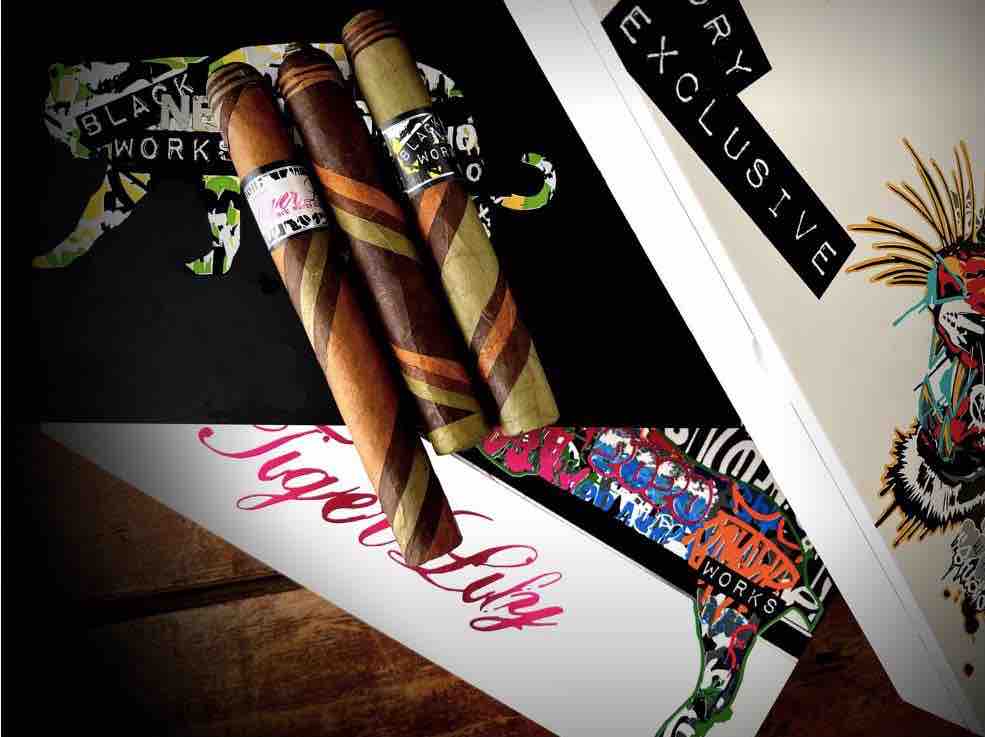 Black Works Studio's Tiger Series, a series of cigars previously only available as a Fabrica Oveja Negra factory exclusive and European release, will now be available in the U.S. as an Oveja Negra Brands event-only cigar. The Tiger Series is a series of artisan multi-wrapper cigars.
There are three cigars in the line: Neon Tiger (5 x 48), Khan (5 x 50), and Tiger Lily (6 x 48). Each contains Ecuadorian Maduro, Connecticut, and Candela wrappers over an Ecuadorian Habano binder and Nicaraguan filler. Each is presented in 13-count boxes.
"Given it's the Year of the Tiger we wanted to release our Tiger Series in the US. These have previously only been available in Europe and as Factory Exclusives since 2017. These cigars will be released as event only boxes in very limited quantities. I wanted to offer something special for our retailers who support us with events," said James Brown, creator of BLTC & BLK WKS and owner at Fabrica Oveja Negra in a press release.
At a glance, here is a look at the Black Works Studio Tiger Series:
Neon Tiger
Country of Origin: Nicaragua
Wrapper: Candela, Connecticut and Ecuador Maduro
Binder: Ecuador Habano
Filler: Nicaragua
Country of Origin: Nicaragua
Factory: Fabrica Oveja Negra
Robusto – 5 x 48 (SRP $18.00)
Khan
Country of Origin: Nicaragua
Wrapper: Ecuador Maduro, Candela and Connecticut
Binger: Ecuador Habano
Filler: Nicaragua
Country of Origin: Nicaragua
Factory: Fabrica Oveja Negra
Robusto – 5 x 50 (SRP $18.00)
Tiger Lily
Country of Origin: Nicaragua
Wrapper: Connecticut, Candela and Ecuador Maduro
Binger: Ecuador Habano
Filler: Nicaragua
Toro – 6 x 48 (MSRP $18.00)
Photo Credits: Oveja Negra Brands