This year Ferio Tego will celebrate the tenth anniversary of its Timeless Collection. To commemorate the milestone, Ferio Tego will release a limited edition cigar called the Timeless Ten Years. The cigar will be showcased at the 2022 Premium Cigar Association (PCA) Trade Show in advance.
"Over the last ten years, the Timeless Collection has been a humidor essential for consumers and retailers alike," shared Michael Herklots, co-owner of Ferio Tego in a press release. "This limited release is our way of celebrating this ten-year milestone; a decade of quality and complexity."
Produced at the Quesada factory, the Timeless Ten Years features a Dominican wrapper and binder over a combination of Dominican and Nicaraguan fillers. The cigar comes in one format – a 5 3/4 x 54 Robusto Grande. A total of 2,500 ten-count boxes were produced. Pricing is set at $185.00 per box.

The Timeless Collection made its debut in January 2012 with the Timeless Dominican, a cigar which today is called Timeless Prestige. It was released by Nat Sherman and it marked a new chapter for that company. Back in June 2011, Nat Sherman had needed to rebuild its distribution channels and bolster its product innovation. At that time Michael Herklots was brought in as Director of Retail and Brand Development. He would go to the 2011 IPCPR Trade Show and worked on getting feedback from retailers on a set of test blends. Eventually, one of those blends became the Timeless Dominican. The cigar was released to critical acclaim, winning numerous awards (including a Top 25 spot on the 2012 Cigar Coop Countdown), and played a key role in rebuilding the distribution channel with retailers.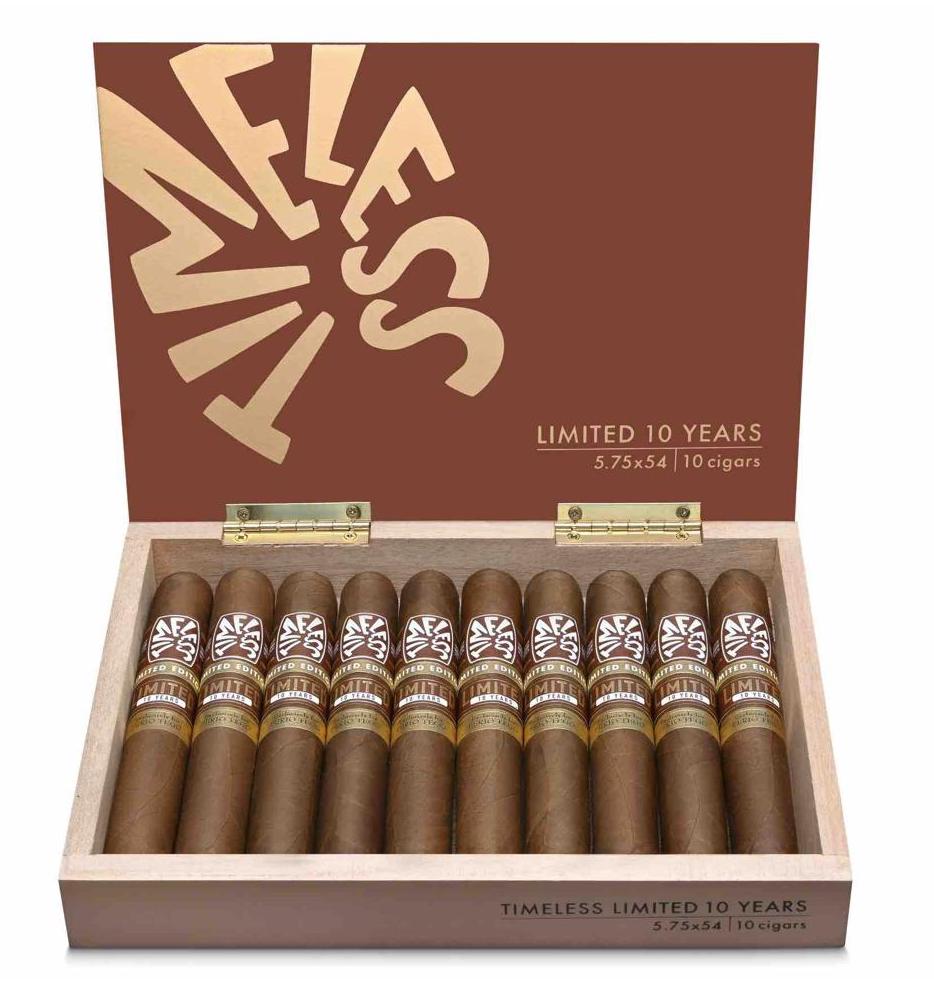 Timeless Collection grew and today has four distinct regular production lines. In 2012 came the Timeless Nicaragua (which would become the Timeless Supreme). This was an all-box pressed, all-Nicaraguan tobacco blend produced at Plasencia. 2013 saw the release of the Sterling (which became the Timeless Sterling). It was produced at Quesada in the Dominican Republic and meant to be a more refined and nuanced blend than many of the powerhouse blends on the market. Finally 2014 saw the release of Panamericana, (which became Timeless Panamericana). Produced in Nicaragua at Plasencia, Panamericana originally started out as single store release for the Nat Sherman Townhouse in New York. It later was an ongoing offering for the Tobacconists Association of America (TAA) before becoming regular production in 2018.
The PCA Trade Show opens July 9 in Las Vegas, Nevada. While the Timeless Ten Years will be showcased at the 2022 PCA Trade Show, Ferio Tego is accepting pre-orders.
At a glance, here is a look at the Timeless Ten Years:
Blend and Origin
Wrapper: Dominican
Binder: Dominican
Filler: Dominican, Dominican
Country of Origin: Dominican Republic
Factory: TABADEX
Vitolas Offered
Robusto Grande: 5 3/4 x 54
Photo Credits: Ferio Tego