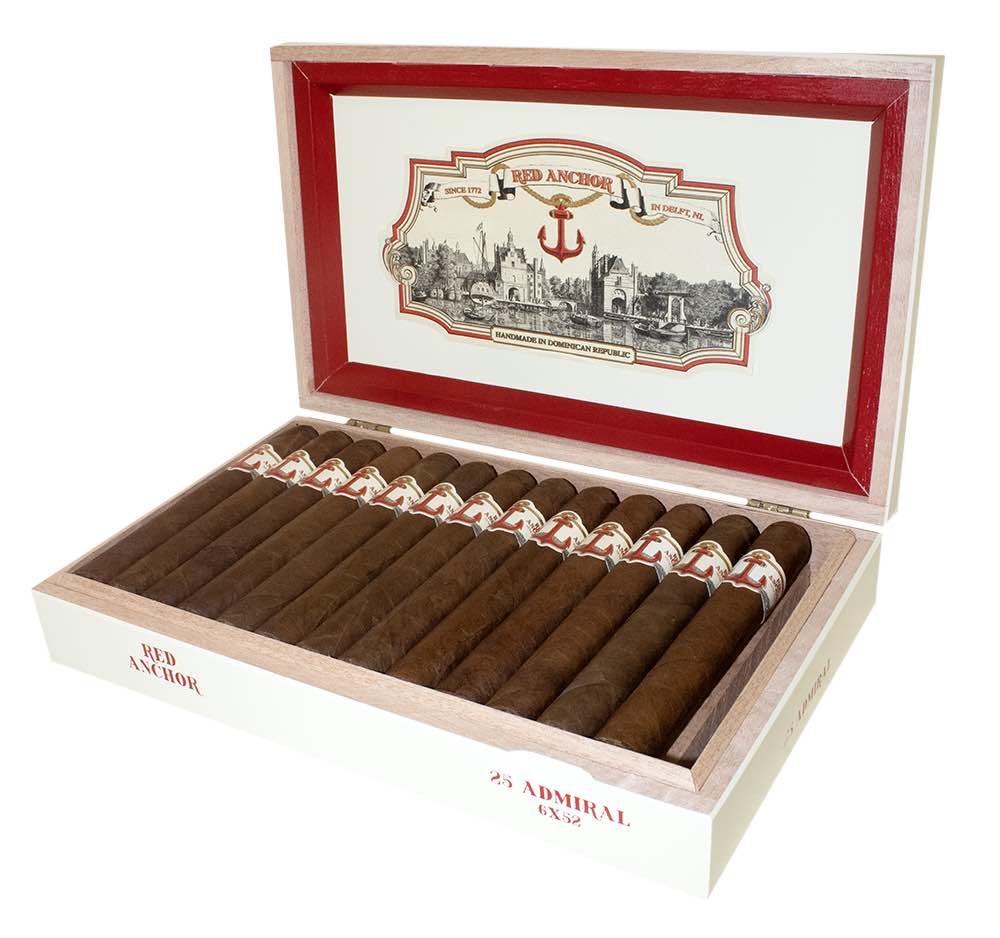 United Cigars has announced it will introduce four new sizes of Red Anchor. Red Anchor is a dormant brand that was re-acquired by United Cigar. The brand traces its roots back to 1772. Last year, Red Anchor was launched in a single size to coincide with the 250th anniversary of the brand. This summer at the Premium Cigar Association (PCA) Trade Show, the four additional sizes will be launched.
Red Anchor was created by Albertus Hillen Sigarenfabriek in Delft, Holland in 1772. The brand was passed down through the family until 1890 when it was sold to Martinus Holland who continued to expand the brand into a tin format through the early 1900s until the brand went out of business in 1937.
United Cigars maintains the Dutch heritage of the brand as it has partnered with the Kelner Family to produce this cigar at Hendrik Kelner Jr.'s Kelner Boutique Factory in the Dominican Republic.
When it was re-introduced in 2022, Red Anchor was released in one size: Admiral (6 x 52). There will now be three additional regular production sizes: Gunner (6 1/2 x 43), Captain (5 x 50), and Commodore (7 x 55). In addition, there will also be an event only size called Cooper (4 1/2 x 43). Each size wil be presented in 25-count boxes. The blend features an Ecuadorian Habano 2000 wrapper over a Dominican Monte Plata binder from the Kelner family farms and a combination of Dominican and Pennsylvania fillers.

In a press release, Cigar Maker at K.B.F. Hendrik Kelner said, "The blend means a lot to my family and myself, this is a cigar that represents the colorful history of the Red Anchor and our Dutch family roots."
"Celebrating 250 years of the Red Anchor with the Admiral vitola in 2022 was very special," added Oliver Nivaud, Director of Operations for United Cigars. "The story and the blend are historic, the additional vitolas are a perfect expression of this."
The PCA Trade Show opens July 8, 2023, in Las Vegas, Nevada.
At a glance, here is a look at the Red Anchor:
Blend and Origin
Wrapper: Ecuadorian Habano 2000
Binder: Dominican Monte Plata (Kelner Family Farm)
Filler: Dominican San Vincente, Dominican Habano '92, Pennsylvanian
Country of Origin: Dominican Republic
Factory: Kelner Boutique Factory
Vitolas Offered
Admiral: 6 x 52 (SRP $25.00)
Gunnner: 6 1/2 x 43 (SRP $20.00)
Captain: 5 x 50 (SRP $20.00)
Commodore: 7 x 55 (SRP $30.00)
Cooper: 4 1/2 x 43 (SRP $15.00)
Photo Credits: United Cigars