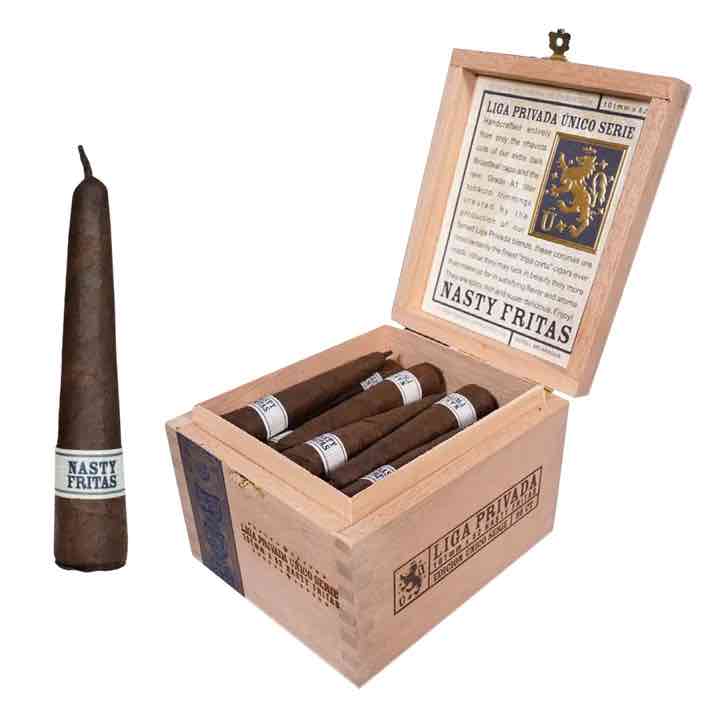 Drew Estate has announced it will introduce 25-count boxes for Liga Privada Único Serie Nasty Fritas. The new 25-count boxes will replace the current 50-count Nasty Fritas box.
Drew Estate says the switch to the smaller box size creates a friendlier presence for retailer humidor shelf space, while at the same time providing a more economical value for consumers.
​​​"These nasty, gnarly, little broadleaf bullies were introduced as an exclusive smoke for our Cigar Safari guests in Nicaragua years ago," explains Jonathan Drew, President of Drew Estate in a press release. "Cigar Safari adventurers went loco for Nasty Fritas' rich character and extraordinary flavor. Switching Nasty Fritas to 25-count boxes is a good move but they still look soooo Nasty. I'll tell ya the full story when I see ya next."
The cigar is a 4 x 52 Short Pyramid that will remain the same. The blend also remains the same and features a Connecticut River Valley Broadleaf No. 1 Dark wrapper and Plantation Grown Brazilian Mata Fina binder that Drew Estate uses for Liga Privada No. 9 cigars. Like Liga Privada Único Serie Papas Fritas, the Nasty Fritas tripa (filler) blend uses leftover tobacco trimmings created in the making of Liga Privada No. 9 and Liga Privada T52 cigars.
The new 25-count Liga Privada Unico Serie Nasty Fritas cigars is now available exclusively to all participating Drew Diplomat Program partners with an MSRP of $7 per cigar or $175 per box.
Photo Credit: Drew Estate