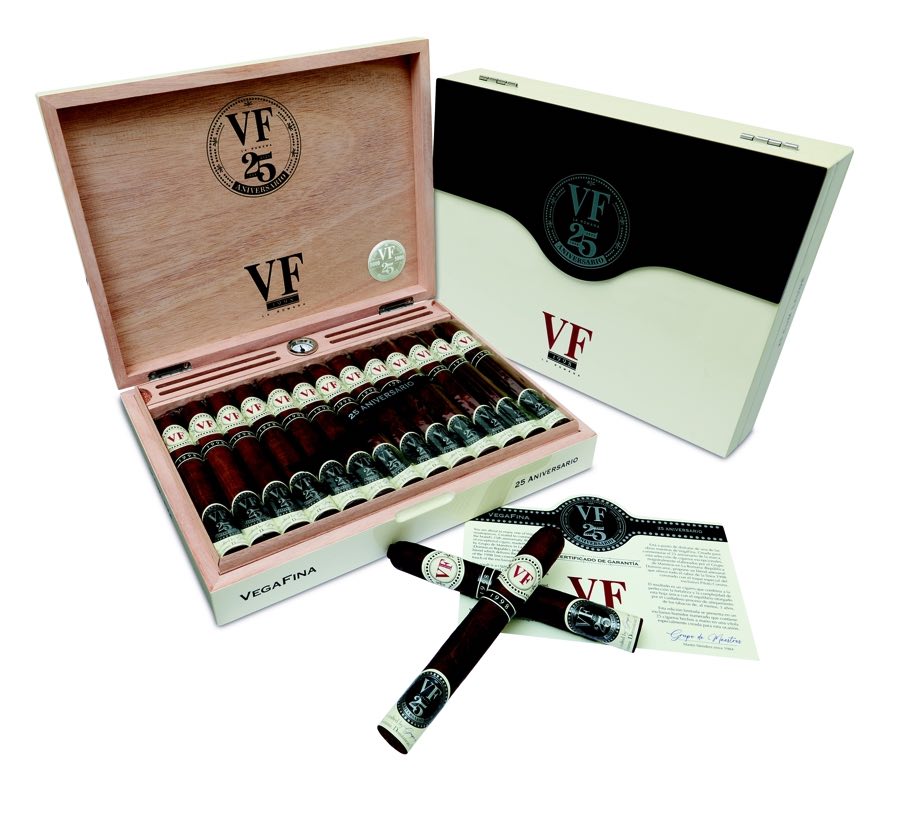 This year marks the 25th anniversary the VegaFina brand and there is a special limited edition cigar to mark the occasion, the VegaFina 1998 25 Aniversario Cum Laude.
The VegaFina 1998 25 Aniversario Cum Laude was blended by the famed Grupo de Maestros of Tabacalera de García in La Romana, Dominican Republic. This cigar combines the blend of the VegaFina 1998 line with an exclusive varietal Piloto Corona.
The Piloto Corona is described as a superior grade of Piloto Dominicano that is collected in harvests where the combination of sun and rain have been ideal. This varietal is found in the upper part of the tobacco plant in the form of two small leaves that, thanks to their greater proximity to sunbeams, retain a much higher concentration of natural oils, promoting organoleptic characteristics that stand out for their greater strength and intensity of flavors.
Blend-wise, the VegaFina 1998 25 Aniversario Cum Laude features an Ecuadorian Habano wrapper, an Indonesian Java binder, and a combination of Colombian, Nicaraguan, and Dominican fillers. The Dominican filler includes the Piloto Corona tobacco.
The "Cum Laude" refers to the vitola name. This is a 52 x 165mm (52 x 6 1/2″) vitola finished with a pig-tail. It's the first time VegaFina has offered this size.
VegaFina 1998 25 Aniversario Cum Laude is presented in an exclusive humidor that combines the colors of the 1998 line, black and ivory, in a high-gloss design that highlights the logo created to celebrate the 25 years of VegaFina. Each humidor contains 25 cigars in two layers topped by a guarantee card that includes the signature of the Grupo de Maestros, matching the footguard that the cigars include. A total of 5,000 numbered humidors will be produced.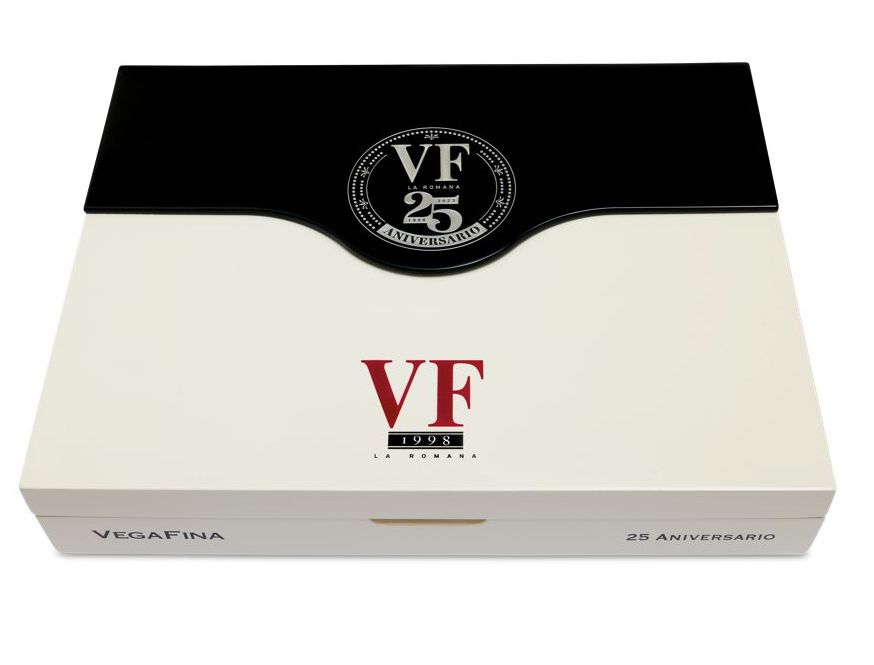 The VegaFina 1998 25 Aniversario Cum Laude is distributed by Tabacalera SLU. It will be launched in various international markets this month, but is not expected to be available in the U.S. market at this time. Pricing was not published at the time of the distribution of the press release.
At a glance, here is a look at the VegaFina 1998 25 Aniversario Cum Laude:
Blend and Origin
Wrapper: Ecuador
Binder: Java Indonesia
Filler: Dominican Republic, Nicaragua, and Colombia
Country of Origin: Dominican Republic
Factory: Tabacalera de Garcia
Vitola Offered
Cum Laude: 52 x 165mm (52 x 6 1/2″)
Photo Credits: Tabacalera SLU