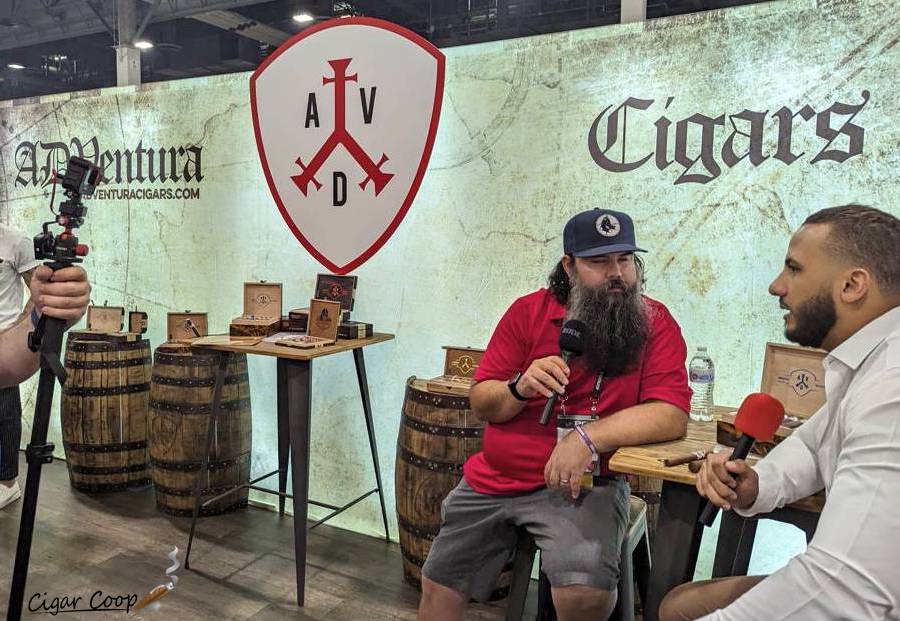 Regarding ADVentura Cigars at the 2023 Premium Cigar Association Trade Show, just about everyone was thrilled to see this company exhibiting there. Last year, one of the company's main production series, Tabacalera William Ventura, had a total loss fire. Despite the enormous challenge that was thrown their way, ADVentura Cigars persevered. In fact, this year, the company moved out of the Sutliff Tobacco Group booth into its own booth. In addition, the company introduced extensions to two of its more popular lines.
ADVentura is the flagship line of ADV & McKay Cigars, owned by Henderson Ventura and Marcel Knobel. It is a true concept brand as the cigars follow the travels of two fictional companions named Adventura and McKay.
First up, ADVentura the Navigator receives a 6 x 60 size called Ponce DeLeon. The blend features a San Andres wrapper over a Sumatra binder and Dominican fillers. The Navigator Ponce de Leon will be presented in 20-count boxes. Pricing is set at $13.00 per cigar.
Second, La Llorona will receive a 6 x 44 Corona size. La Llorona is a line that was first introduced in 2022. It is sold to ADVentura's top tier (Elite Program) retailers – which total about 20 in the U.S. The name comes from a tale from Latin folklore. La Llorona is a vengeful ghost that roams the seas mourning her dead loved ones, which she herself killed. ADVentura plans to release a different blend size each year, and this year is the Corona. The blend for the La Llorona Corona remains consistent with the rest of the line – an Ecuadorian Habano wrapper over a Dominican binder and a combination of Dominican and Nicaraguan fillers. The La Llorona Corona will be sold in 20-count boxes. Pricing is set at $16.00 per cigar.
Interview with Henderson Ventura, ADVentura Cigars
Due to age restrictions, you will need to click on Watch on YouTube to view this content.
Product Reports
Photo Credits: Erron Nielsen for Cigar Coop