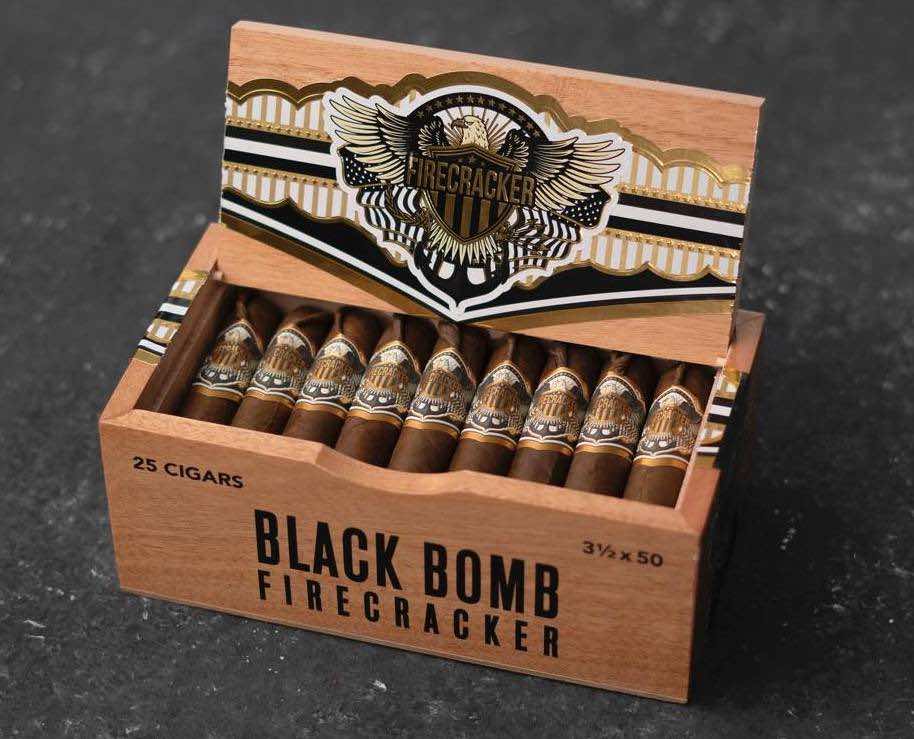 United Cigars' revamped Black Bomb Firecracker, a new regular production offering from Tabacalera Magia, is slated to begin hitting stores in September. The cigar was previewed this summer at the 2023 PCA Trade Show.
The Firecracker is a 3 1/2 x 50 vitola with a long fuse. The Black Bomb Firecracker joins the current United Cigars' Firecracker, which is also a regular production offering. The United Cigars Firecracker series is also known for the many limited edition collaborations that have been done with leading manufacturers to produce a cigar in the Firecracker vitola. Previously the Black Bomb Firecracker was released as a limited edition, but now it gets an updated blend, and new packaging, and becomes regular production. The packaging is in line with the current United Cigars Firecracker offering.  It will be priced at $6.00 per cigar and is presented in 25-count boxes.
Blendwise, the Black Bomb Firecracker uses a Mexican San Andres wrapper over a Sumatra binder and filler tobaccos from the Dominican Republic and Nicaragua.
"We are thrilled to bring the Black Bomb Firecracker to our valued retailers and customers," says Oliver Nivaud, Director of Operations at United Cigars. "This cigar represents our dedication to providing the finest quality products to cigar enthusiasts around the world. My trips to the factory were dedicated to creating a blend that will undoubtedly make the Black Bomb Firecracker a standout in our portfolio."
For details on the Black Bomb Firecracker, see our PCA 2023 Pre-Game Coverage:
Photo Credit: United Cigars