Following lower financial results for the second quarter of 2023, Scandinavian Tobacco Group (STG) has lowered its full-year guidance. The company attributes this to a more volatile environment than expected and reflective of ongoing inventory adjustments across customers and distributors, slower regain of market shares in Europe, delays in new store openings in the US, and changes in exchange rates.
A full report of the earnings can be found here, but there are two key measurements worth noting. First, in the second quarter, net sales growth decreased 2.3%. At the same time, STG reported an EBITDA (Earnings Before Interest, Taxes, Depreciation, and Amortization) margin of 23.6%. The EBITDA margin is a measure of a company's operating profit as a percentage of its revenue.
As a result of the market conditions, STG has revised its net sales guidance to DKK 8.7-9.0 billion (down from DKK 9.0-9.3 billion) and EBITDA margin in the range of 23.5-24.5% (down from 24-25%).
"On the back of a volatile environment we had to adjust our guidance even though we are continuing to make good progress on our ambition to grow the size of the company through retail expansion, acquisitions and portfolio diversification. In the second quarter, we completed the second acquisition of the year and opened another Cigars International retail Superstore. For the remainder of the year, we are focusing on leveraging the current strength of our online business and on building a stronger momentum in our Europe Branded business," commented CEO Niels Frederiksen in a press release.
The two acquisitions Frederiksen refers to are Alec Bradley Cigar Company and XQS, a Swedish company that specializes in smoke-free products.
STG goes on to say In the second quarter of 2023, the group's reported net sales decreased by 2.3% to DKK 2,225 million with organic net sales being negative also in the same range. Exchange rate developments impacted net sales negatively by DKK 46 million while the acquisition of Alec Bradley and XQS, impacted net sales positively by DKK 35 million.
The performance was composed of positive organic net sales growth in the North America Online & Retail division (NAORl) and negative organic net sales growth in both the North America Branded & Rest of World (NABROW- distribution to North America and just about everywhere but Europe and Cigars International) and Europe Branded (EUB – European distribution) divisions.  If you aren't familiar with these divisions, NAOR includes Cigars International. NABROW, includes the premium cigar divisions of General Cigar Company and Forged), while EUB includes a strong machine-made cigar business.
STG says the decrease in NABROW was primarily a result of inventory adjustment across several handmade cigar customers and the change in the distribution model in Australia, which impacted net sales positively in the first half of 2022. The demand for product categories is still perceived as resilient, although consumption of handmade cigars in the US continues to decrease by more than its structural decline rate. The balance between the online and retail channels in the US continues to reverse towards the pre-COVID balance, to the benefit of the online business.
The EBITDA margin decreased to 23.1% compared with 23.9% in the same quarter last year primarily driven by a lower gross margin in Europe Branded and a higher OPEX (operational expense to sales ratio) ratio in North America Branded & Rest of World. The decrease in the gross margin in Europe Branded is a result of a combination of changes in market and product mix and lower production efficiency resulting from declining volumes compared with last year.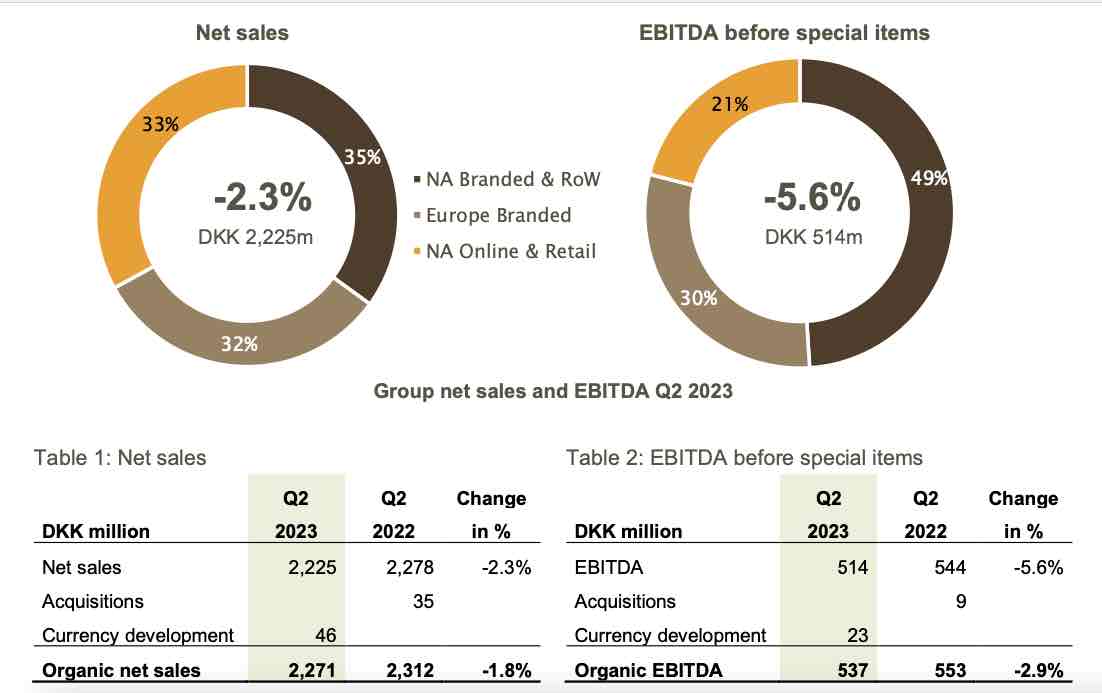 Going forward STG says its growth plan through a combination of acquisitions, geographic expansion, and experimentation in Next Generation Products ("NGPs") remains on track. STG has said the acquisitions of Alec Bradley and XGS have continued to go according to plan. In June 2023, Cigars International opened its ninth retail cigar Superstore in Katy, Texas west of Houston. The Katy Superstore is the fifth store Cigars International has opened in Texas. The retail stores are expected to continue to deliver valuable contributions to the group's financial performance. Although a few store openings are delayed, the strategy to expand the retail network in the US continues, with additional openings expected during the coming year. STG also is continuing to explore opportunities outside the group's core categories. To date, the group has launched three products and acquired one brand within the NGP category.