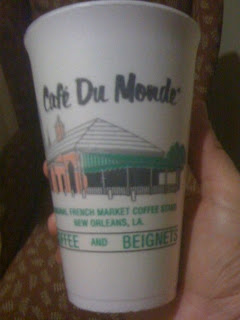 Photo courtesy of Stace Berkland
Trek one mile for a cup of coffee in the heat and humidity of New Orleans in the middle of August?
A bunch of folks told us about the legend of Cafe Du Monde coffee, but upon touching the ground in New Orleans, we were greeted to a blast of heat and humidity of 95 degrees/95 percent humidity.  Not ideal coffee weather.
Several of us had not been to New Orleans before and had some time before we needed to be back at IPCPR.   However, it was a long walk from the Convention Center to 1039 Decatur Street.
On our walk, we stopped at the launch for the Madden 2011 video-game – a.k.a "Maddenfest".  We also stopped and had pictures taken with the New Orleans Saints cheerleaders.   Cheerleaders or not – the heat was on.   As we continued our journey up Decatur Street, sweat from my forehead was pouring into my eyes.  In fact, my eyes felt like they had salt dumped in them.
When I saw Cafe Du Monde, my first reaction was "What a dump!… I nearly got heat exhaustion to go to this dump."  However, there was some air conditioning in the cafe.  I opted to order a decaffeinated iced coffee.   I normally only drink decaffeinated beverages and there are challenges in finding a good cup.
The end result – simply awesome.   This place lived up to the hype my buddies mentioned.   The iced coffee did not need any sweetener whatsoever.  Apparently, Cafe Du Monde's secret is chicory in the coffee.   Overall, well worth the trek – and a great start to touching the ground in the Big Easy.