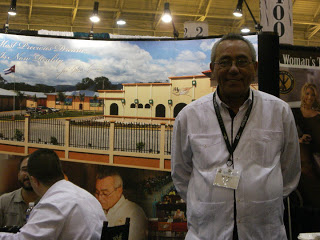 Don Pepin Garcia graciously poses for a picture for me
In 2009, Outland Cigars in Charlotte hosted cigar legend Don Pepin Garcia at the store for what was Outland's biggest event ever. Unfortunately, my "other job" had me out of town and I was unable to meet the great Don Pepin. However, the Outlanders in attendance had nothing but high praise for this master blender. So, when I had the opportunity to visit the Don Pepin Garcia "My Father Cigars" lounge at the IPCPR, I was more than a little excited. All of us who visited this lounge saw the kindness of the master blender and his family in action as well as a look at a true cigar art gallery.
The "My Father Cigars" lounge is one of those lounges that took up two sides of an aisle. It was an interesting setup. While it was a little narrow, it also was pretty cool just to pass through. As I was on one side of the aisle, I saw the master blender himself – Don Pepin ripe for a picture on the other side of the aisle. I immediately fumbled for the Cigar Coop camera. As I was doing that, Don Pepin saw what I was doing and humbly made my job easier by volunteering to pose for the picture (see above). This was a true gentleman in action.
As I mentioned above, the most amazing thing about the lounge was that this was a true Cigar Art Gallery. It was amazing to see some of the displays of true cigar art that were done by the master blender and his family. I could not get enough of viewing these displays. I've included some photos below.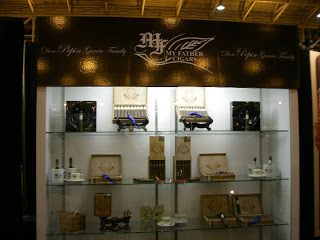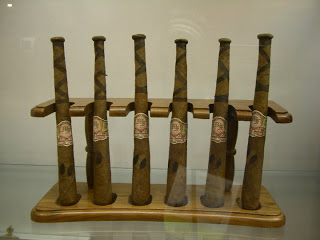 Add caption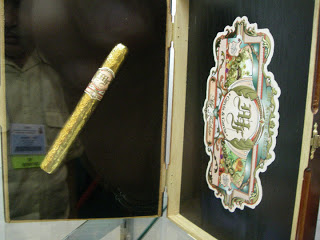 Like the visit to the Quesadas and the Carrillos, once again, it was not just a chance to meet another Cigar superhero, but also another family in action. It was great to see Janny and Jaime Garcia – Don Pepin's children working side by side with him. Like many of the other manufacturers, My Father debuted much of their new stuff prior to IPCPR. The big name new products are the new value-priced La Reloba sticks, and of course the new Jaime Garcia Reserva Especial. The Reserva Especial was done by Pepin's son Jaime. It shows that the son has a lot of the magic of the father – because this cigar should easily be a Top 10 stick for 2010.