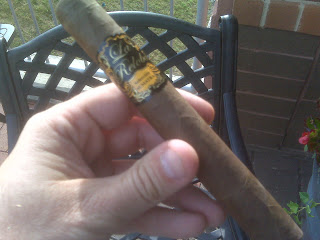 The La Reloba Sumatra Toro
The theme of producing a quality value-priced cigar in the $5.00 – $7.00 range is appealing to both the consumer and the retailer. For the consumer, it's a terrific opportunity to enjoy a premium stick in today's tough economy. For the retailer, it means that the cigar isn't going to be on the shelves for a long-time because there is demand for it. The theme of the value-priced premium cigar has been done by many companies in 2010 – Gurkha with the Viper, Esteban Carreras with the 5150, and Oliveros Swag are great examples. With Don Pepin Garcia's My Father line taking off, I do believe the Garcias recognized the need to do the same thing. This is why in 2010, I believe they introduced the La Reloba line. With the success of the Jaime Garcia Reserve Especial, I think the La Reloba line fell under the radar a bit.
This is an all Nicaraguan smoke available in two wrappers – Habano or Sumatra. Here are some details on the construction:
Wrapper: Nicaraguan Habano or Nicaraguan Sumatra
Binder: Nicaraguan
Filler: Nicaraguan
The cigar is available in four sizes:
Corona: 5 5/8 x 46
Robusto: 5 x 50
Toro: 6 1/4 x 52
Torpedo: 6 1/8 x 52
For the purposes of this review, I smoked the La Reloba Sumatra (i.e. with the Sumatra wrapper) and the Toro size.
Normally with a lot of Pepin/Nicaraguan sticks, I usually am treated to stronger blast of salt to start the smoke. The La Reloba Sumatra did not hit me hard at first – there were only hints of salt. The interesting thing was there was a balance between tones of oak and cedar sweetness to start out. I heard some folks mention pepper, but this did not really hit me. As I smoked it, the dominant tones became the sweet tones. In fact, I felt the cedar tones pretty much transitioned to a more nutty-like sweetness. The sweetness I got – particularly in the second half of this smoke was really what I took away from this.
Overall, I found this a medium strength and medium bodied smoke. I did not find this an overly complex stick. The stick needed a couple of touch-ups, but nothing out of the ordinary. I got a very small nub to finish the stick. It didn't burn hot at the end – and it didn't get harsh.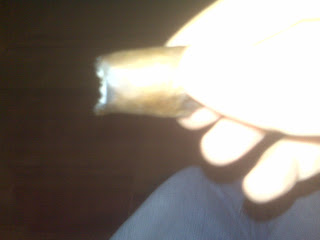 Nub of the La Reloba Sumatra Toro
Best part of all – the price point starts at $4.50 for the Corona and goes about up $6.50 for the Torpedo. I would smoke this stick again. I do admit the first third of the stick didn't impress me, but once those sweet tones kicked in, I was hooked.
Assessment: Nice to Have