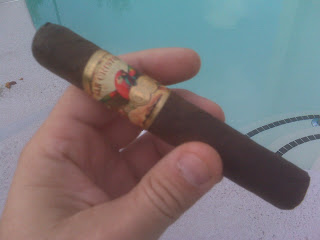 Don Pepin Garcia has truly established himself as one of the legends in the cigar business. One thing Pepin has done a great job at doing is collaborating with many of the big name cigar manufacturers and working on blends for them. For Ashton Cigars, Pepin worked on the San Cristobal blend. This cigar has been out for a while now, and in my opinion this cigar might stand out with Pepin's best work. This cigar proves to be a wonderfully complex cigar from start to finish – and is not short on quality whatsoever.
First a little on the cigar. The dark, oily wrapper is really what stands out and makes this stick look beautiful. For those who know about Don Pepin, there probably is not going to be a lot of surprise on the make-up of this cigar.
Wrapper – Nicaraguan Corojo
Binder – Nicaraguan
Filler – Nicaraguan
This cigar comes in 8 different sizes, so there should be something for every one.
Papagayo – 5.75 x 55
Francisco – 5.5 x 44
Clasico – 5 x 50
Supremo – 6 x 50
Guajiro – 6.625 x 46
Fabuloso – 6.125 x 52
Monumento – 7.25 x 49
Maestro – 6 x 60
For this review, I smoked the Clasico (Robusto size). I happened to have a nice plume on this cigar (hard to see in the picture) For this stick, I put a straight cut through the beautiful triple-cap. I toasted the foot of this cigar and away I went. The initial ash that burned was white and beautiful. It was nearly a work of art – especially when contrasted with the oily wrapper and some of the plume.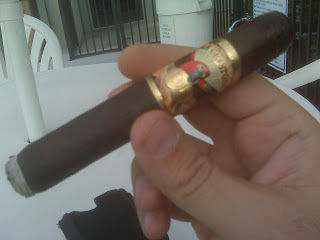 Initial Burn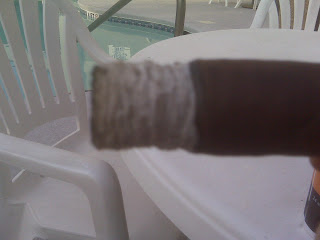 Beautiful White ASG
Here is a summary by percentage of the burn. I felt so much complexity in this cigar as it burned, that I felt a table would sum it up best. There are a lot of tastes I obtained from this cigar, so I'm sure its splitting hairs…
| | | |
| --- | --- | --- |
| Start | Leather/Oak with some Citrus-Acidic notes | |
| 5% | Leather/Oak joined with some Chicory and Salt taste | |
| 20% | Cream notes emerge as the dominant flavor. Leather/Oak/Chicory/Salt flavors diminish | |
| 30% | The Salt taste emerges again, but is much more dominant than at the 5% point. This does not last long and the cream notes return although a little salt remains. | |
| 50% | By this point, the Salt at the 30% mark is just about gone. Now a rich coffee taste joins the cream profile. | |
| 70% | Some Black Cherry Notes are also present in this stick with the coffee and cream notes. | |
One thing that did surprise me was the leather taste earlier on. This is usually a tough flavor note for me to pick out, but I definitely picked it up on this stick.
If the salt taste at 30% had lasted longer, I probably would have been somewhat negative on this cigar, but in a lot of ways, I found this "salt blast" to be a nice transition point on the cigar. While this cigar starts out with medium strength, it definitely progresses to the medium to full range toward the second part of this cigar. From a body standpoint, this is clearly a full-bodied cigar. Finally, the finish was incredible – a cool burn that was not harsh at all.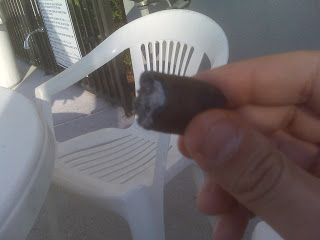 The Nub of the San Cristobal Clasico
This cigar has a powerhouse reputation, but I did not find it one that would knock me over. In fact the strength profile combined with some of the flavors made this one awesome morning smoke for a September Sunday in South Carolina. Overall, this is a great stick and one I'd highly recommend.
Assessment: Memorable