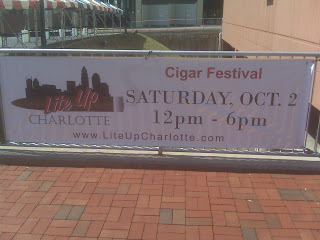 Are you ready? On October 1st, the world comes to Charlotte, NC – the cigar world that is. The Super Bowl of Cigars – the first annual "Lite Up Charlotte". A huge cigarapoolza for cigar enthusiasts!
The date is Saturday October 2nd and the action kicks off at 12 Noon. The location is Ballantyne Village in South Charlotte. Things are being setup in the Parking lot adjacent to Outland Cigars. Personally I'm so pumped that right now I have no appetite and don't think I can sleep.
The post below has all the details… tickets available online and at Outland Cigars.
I stopped by the action at lunch-time today. The staff is hard at work to make this a WORLD CLASS EVENT. Here is a look at the tents being setup.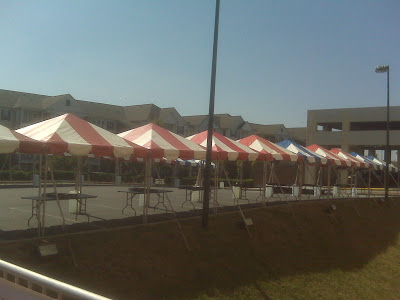 Yes folks – the world comes to Charlotte, the cigar world!